Top 13 Tricky Questions Asked In NDA SSB Interview
In 2016, there were approximately 5,000 aspirants who appeared in the SSB interview of National Defence Academy exam, and guess what ? There were only 210 who got recommended. In 2015, there were approximately 8000 students who get on to the level of interview and only 300 got the final selection. We have statistics of so many more years which will shock you badly.
See Also: Army Officer's Body Language, Crack SSB In First Attempt
On an average, there is merely 0.02% chance of you to go to the interview level after you have applied for the exam and only 1 in 2000 make it to the academy and there is a 0.0005% chance that you will make it to the academy after the final merit list. Have you ever thought that who are those 1 percent students who got to make the final selection? What actually they do? and what actually their success strategy is?
See Also: NDA (I) 2018; Date, Exam Pattern, Complete Selection Procedure
Actually, they are way much common like you guys and the difference just lie in their viewpoint towards SSB interview. They neither panic, nor they are chilled out. The balance become the reason of their success. The percentage of final selected candidates is so less because so many are there who quit in the middle and thus, the remaining ones make the final selection.
See also: How's life at NDA
NDA SSB Interview – Pattern
One should know that there is a particular pattern followed in the SSB interview. All you need is to understand that pattern to clear this interview that has four sections. The first is introductory part in which they will ask you some general questions, only the basic ones. After that, the level of questions is raised up to usual questions regarding some real life situations. Then the questions regarding current affairs and social problems, and finally, the interview round end's with some practical questions in reference to your trade.
Introduction questions
The one of those basic questions which are asked by the Interviewer to make you feel comfortable and relax. The easy questions just to examine the level of your confidence. This section comprises of the questions regarding your name, your place, your friends, family, etc.
Your Approach for these kind of questions should be honest, lucid, truthful and more than anything, optimistic. It is really very easy to answer these introduction questions but the big deal is to answer them in an optimistic way.
Usual questions
This section comprises of two kind of questions. The first, Rapid Fire questions and the second, Stress Questions.
After the Introduction part, questions are asked in Stress Interview to test your originality, decision making power and solution finding abilities. They may repeat a question again and again to irritate you, or may present a stressful and hard situations to check your ability to tackle different situations.In Rapid Fire Questions, general back to back questions are asked to examine your observing power and to test how truthful you are. The questions are asked from educational background, views about parents, teachers, friends views about you, and your views about them. And questions regarding your Hobbies, extra curricular activities to test your team spirit and leadership qualities and to examine candidate that how he handle tasks, sport or some situation. The questions in this section are asked on the basis of your answer in introduction part.
Social problem type questions
The questions from world issues are included in this section and an appropriate solution are expected from your side. The depth of knowledge and your way to tackle problems are examined in this section. Try to analyse the questions properly and then give a logical answer. Some history and currents affairs of the nation and all around the world can be asked. Tell them 5 current news from the newspaper.


Practical Knowledge questions
If you are going through Technical Graduation Entry, they may put forward some basic technical questions regarding your stream. Like, if you say that you play cricket then Interview Officer may ask you to apply some Physics law to the swing bowling or Pythagorean theorem to table tennis service.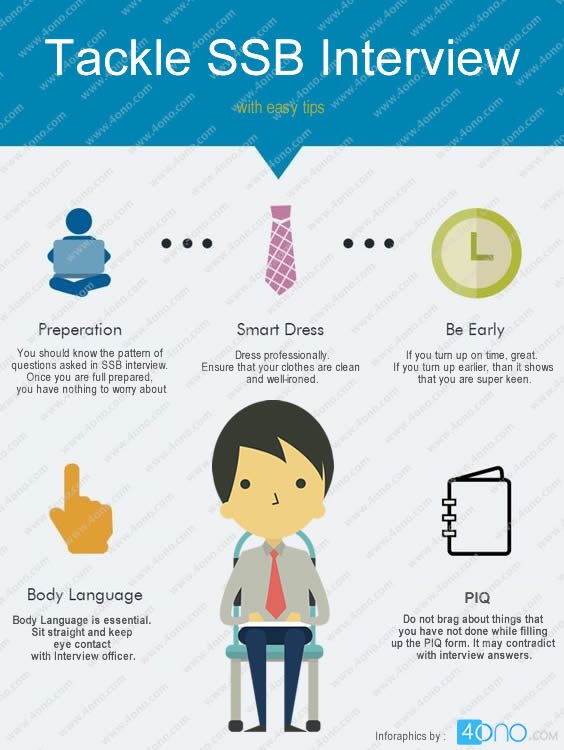 NDA SSB Interview – Tricky Questions
The SSB interview tricky questions which are generally asked by the interviewer to check your ability of dealing with different life situations. Along with the questions, we find it as our duty to aware the students on the approach they should apply to answer those questions in the interview round.
# Question 1: 
Why you have only applied for Army and Navy? Don't you like Air force?
His Intentions: IO asked you this question because he want to know your foresightedness, self-motivation, awareness about the profession, desire to accomplish as a leader and your vision for future personal growth.
Your Approach: You have to give a positive answer with showcasing all your positive aspects. There should not be even a tinge of doubt in your answer.
Sample Answer: The very first reason, i am more inclined towards joining the forces in the technical field and contribute as a Mechanical Engineer. Secondly, i am already working as a sales and service engineer so there is less time to study so i decided to opt for available options rather than AFCAT.
# Question 2: 
What do you think why were you not recommended in previous attempts?
His Intentions: Here, interviewer wants to know that whether you are well aware of your own drawback or not. And what have you don to improve them. He wants to know that how critical analyses you have did in your present level of preparedness.
Your Approach: Generally, to this question, candidates start counting their mistakes. They start speaking on the errors that they had made in various tasks during their previous SSB attempts. This is an absolutely wrong way to deal with the question. Instead, you need to focus on your improvements from the last attempt. You can highlight that your performance during the ongoing SSB has been fairly satisfactory as per your own judgement.
Sample Answer : Respected Sir, I realize that in previous attempts, my physical strength and speaking skills were inadequate. In fact, so many responses of mine lack down by every means. But, i can assure you that from last 5 months, i am working on it.
And now, i am so much more confident about myself. In fact, in this attempt, i felt a major change in my performance and realized the value of knowledge.
See also : How to crack SSB interview
# Question 3: 
Why do you want to join the defence forces?
His Intentions: Here, the interviewer is expecting you to define your passion for defence service. He want to examine that whether you are just an another job seeker or you are really a passionate aspirant.
Your Approach: All you have to do is to be yourself. Yes, this is it. Try to give answer from the innermost part of your heart.
Sample Answer : Sir, I do believe that Defence services is not just a job but it is a way of life. It is one of the most dignified way to lead the best ever life and to serve the nation. I have an extreme interest in adventure and sports and thus i want to work in this area of field.
# Question 4: 
Will you come back again for SSB interview if you fail this time?
His Intentions: He want to check out your confidence. Don't ever think that the interviewer is going to reject you. He is asking this question because he want to see the level of your nervousness.
Your Approach: You don't have to panic at this question. Try to reply calmly and confidently with a positive attitude, and fill your answer with your passion.
Sample Answer : Sir. I have come here for a reason so i cannot quit and will definitely come back. After all success is sure if efforts are true.
# Question 5: 
Do you have a girlfriend? if not then why?
His Intentions: Here, the interviewer want to know that how focused you are towards your goal and what are the topmost priorities of your life.
Your Approach: First of all, be truthful. Honesty is always the best policy. If you have a girlfriend then tell them in a tactful way. Like, you can say, yes i have a girlfriend and she is very supportive and encourages me for defence services all the time. Even, today, she wished me all the luck for this SSB interview.
Sample Answer : Sir. I have so many friends of school and college. Some are males and some are females. They all are very good. But, i have no such relationship with some particular girl. My first priority is armed forces and i want to make career in it. For now, i am totally devoted to it.
# Question 6: 
Tell me something about the place you belong to?
His Intentions: Here, the IO want to examine your observation power. He wants to check that whether you are keen and focused toward different things or not.
Your Approach: your answer should be limited and short. You can include the geographical location, approximate population and some specific features and specialties of that place.
Sample Answer : Sir. I belongs to Dehradun (for an instance). It is situated in Uttarakhand in the Northern part of India. Dehradun is a valley situated on the foothills of the Himalayas. Being a capital of Uttarakhand, the city has all the government facilities, proper schooling accommodation, hospital facilities, etc.
Question 7: 
Tell me about your strengths and weaknesses. How are you doing with them ?
His Intentions: With this question, interviewer like to know that how much you actually know yourself. And how much efforts you are putting in to improve yourself.
Your Approach: You have to answer very tactfully to this question, neither you have to appreciate yourself beyond limits, nor you have to keep criticizing.
Sample Answer: Sir, every person have some qualities and some limitations so as me. I do have skills in Computer education and technical work. I believe in punctuality and honesty. I love dedicated people who put 100% effort in their task. But, at the same time, i am full of flaws and i am constantly working to improve them. And i must say that each and everyday, i am turning into a better person. I know, once i will be selected here, i will get better chances to acquire more good habits.
Question 8: 
Tell me your motivation behind opting NDA?
His Intentions: This question is always asked to examine your intense passion for defence services. Interview Officer wants to know that how much blood you can shed for your ambition.
Your Approach: You have to give a genuine answer by truly describing your passion for defence Service. Never say something like, you can die for your country or anything like that. They are not paying you to die on the battle field. You can say that your parents are the true motivation. They encourage you all the time to serve the country.
Sample Answer : Sir, my father is an ex serviceman in Indian Army. From my childhood, whenever i saw him in uniform, i felt an intense respect and urge to do the same. With the growing age, my parents constantly motivated me to get into the defence services. And, here i am. I know, i will be selected in defence services, me and my parents have worked a lot for it.
# Question 9: 
Which course would you like to opt after 10+2  if you will be rejected today ?
His Intentions: Actually, Interviewer is not at all interested in your future plans. He just wants to know that how much passionate you are for selecting into defence services. And what would be your next step, if today you are rejected.
Your Approach: First of all, you have to understand that Interviewer is not indicating at your rejection. So, there is no need to get into the flow of emotions. Don't ever answer like you will die if you would not be selected or you will loose all the hopes in life or something like that.
Sample Answer : Sir, even if i would be rejected today, i will not loose hope and will definitely come again in the next attempt with better preparation and after working on my flaws.
#Question 10: 
Tell me three qualities of your best friend that you do not like.
His Intentions: IO is asking this question because he want to examine that how much optimistic you are, how you take things, and more than that, how much you analyze things in a positive way.
Your Approach: As the interviewer has asked the drawbacks of your friend, the real challenge is to make the answer optimistic. You have to deal with in such a way the, even in his negative points, the positivity can be showcased.
Sample Answer: Sir. My Best Friend Ankit is an excellent artist and also do well in his academics, but the problem with him is the lack of concentration. He never utilize time well and this is what i always dislike about him.
Secondly, being a topper of our school, he sometimes become overconfident about himself. I think, confidence is good but in limits. He can do much better with proper level of confidence.
Thirdly, I do appreciate him for such good computer skills but at the same time, i think that he must spend some time in physical activities too.
# Question 11: 
Why has your percentage dropped from 10th to 12th ?
His Intentions:Here, he is not trying to discourage you, instead he wants to know that how much you have learnt from your past experience.
Your Approach: Do mention some specific reason like, i was more influenced toward sports or i was so poor in time management but at the same time, make him believe that you have learnt so much from your failures and now you have overcame them already. Do not ever blame anyone like your teachers or your friends for your less marks.
Sample Answer: Sir, i think, at that time i was a bit childish and spend most of my time in wrong direction. But, now i have learned the importance of time management. Time has taught me a lot and now i am so much more responsible than ever before. I think, less marks in class 12th made me a better person and give me the best lesson of life to improve myself in a much better way.
# Question 12: 
Why should I select you?
His Intentions:First of all, you need to understand that what is the main motive of the examiner to ask this question. He wants to know that how much you are aware of your true potential and what can be expected out of you as a potential officer material.
Your Approach: This is the question in which you will get the best chance to express your potential and positive points.
Sample Answer : Sir, my father is an ex-serviceman in Army and from my early childhood, i felt an intense respect and love for his uniform. It bring me goosebumps whenever i think about my passion of joining Defence Services. I came in contact with so many officers and get to know the scope and responsibilities of an officer in the forces. I am totally influenced by them and want to become one among them. Today, as I look upon myself, I feel that I will be able to shoulder the responsibilities assigned to me as an officer and live up to the great traditions of the forces.
# Question 13: 
Are you more close with your father or mother? and why?
His Intentions: Here, Interview Officer want to examine that how you tackle difficult choices of your life.
Your Approach: You have to gauge your social intelligence and must showcase your courage of conviction and your ability to be honest in giving a candid opinion.
Sample Answer : Sir i am so lucky person to have such great parents. They both support me a lot in my decisions. I am very close to both of them. As my mother is a housewife and father generally stays out of the town for some or the work, so i interact more with my mother.
Let me put on guard that the sample answers are just a suggestion from our end. And you must modify them according to the question.
Real Interview Story
# From Aspiring Model To An Upcoming Army Officer
Things were not going good as that was my 5th attempt on 13th October after clearing conference round on 10th October. I lost all hopes and thoughts were there to go back to home without even attempting this SSB completely. But at the same time, i was so distraught that how can i go back to home and that is too after quitting like this.
One friend in SSB UNDERSTOOD MY SITUATION AND TOOK ME TO HIS HOME IN ALLAHABAD. At first, i was reluctant but finally decided to stay and give my 100% again.
But this time i'm gonna experiment with myself. I want to go free minded, no panic, nothing, just did not think of recommendation for a single time and resolute to give my 100%
So many aspirants were asking about the interviewing questions of previous SSB recommended candidate. So, here is mine.
Sir : Ask 3 wishes from God if he appears in front of you. One for each, mother father and friends.
My Answer : For father, i said, my father met with an accident and rods were inserted in his leg to make him walk. So I want, he get as fit as he was before.
For mother, I said that she is not educated so I want her to be adorned with education so that she could see the transformation in herself being educated.
For my friend, i said, he has done his B.A and MA and then again BSC and MSC so that he can fulfills his dream to become a Geologist. Thus, i want him to get a job in ONGC as a Geologist.
Sir : OK assume that your parents fixed your marriage with a less educated girl. Then ?(I knew, the question was in the response to my wish for my mother )
My Answer: I said, sir i will convince my parents to look for an educated girl
Sir: No, they are not convinced.
My Answer: Sir Education is not everything. I will talk to her and if i will find her good then i will marry her
Sir: What will you talk?
My Answer: Sir, talks that upcoming husband and wife do(with a genuine smile)
And from here the enjoyment started with all ease.
Sir : OK. Assume me as your upcoming wife. So talk in the way, you will talk to that girl (this was shocking as i never faced such questions and heard about such an atmosphere in interview room.)
From then, the entire interview was in Hindi, although, i spoke some of the part in English but sir was totally speaking in Hindi.
So I started asking.
Me: Why didn't you completed your study ?
Sir: He replied in a complete female tone answering, "mai to padhna chahti thi, mere papa ne pdhaya hi nhi bs 10th tak hi pdhne dia hai par mujhe kadhai, bunai, silai, cooking sab sikhaya."
(i started laughing)
Me : I asked "do you want to continue study ? "
Sir : Yes, of course.
Me : OK. I will allow you.
(Here I stuck for sometime.)
Sir : Bass 2 sawal puch ke shadi karega?
Me : No sir. I will talk more
Sir : Bol na fir.
(i was hesitating)
Me :  Then i asked, joint family me rahogi ya bs mere sath.
Sir : Mai shadi tumhare sath kar rahi hu tumhare parents se nahi. of course, tumhare sath rahungi.
Me : Mere papa ka accident hua hai, he is not well. Mummy ki tbyt bhi kharab rhti hai. rhna to sath he padega.
Sir : Chlo thk hai tb to reh lungi.
Me : Main toh border pe rahunga agar mujhe kuch ho gya toh mere family ka or bacho ka khyal rakhogi ?
Sir(Angrily) : Ha rakhungi. Ye bhi puchne ki baat hai kya ?
Sir : Agar mai marr gai toh tum mere mummy papa ka khayal rkhoge ?
Me : Tum kaise marogi.
Sir : Kaise bhi. heart attack se margai toh ?
Me : Ha rakhunga na, baki tmare brother to hai hi.
Sir : Dusri shadi ni karoge ?
Me : It depends on our child's age.
Sir : Lets assume, there is no child, then?
Me : If girl's parents and my parents want me to start a new life then, I will do
(He smiled and wished me luck for the conference.)
I was so confused that what actually he has got from these answers. But, i must say that it was my best interview till date. At last, i will suggest that the best way to deal with the interview or entire SSB is to talk with your friends, your partner, your teacher and your family and ask them what they like in you and what are your negative points and see how you can improve yourself? Look if you can make your qualities better.
Moreover, observe their positive and negative qualities and try to understand them. Talk with your parents, ask stories of their struggle, their good deeds so that you can correlate with Thematic Perception Test and Word association test.
Write it daily for 5 to 10 days in addition to filling of PIQ (Personal Information Questionnaire) before SSB.
I did the same after one of my recommended friend suggested me because SSB revolve around your life which is incomplete without friends, teachers and parents.
Let me assure you one thing: Continue your struggle, sooner or later, you will definitely get that positive sign of recommendation.
Conclusion
I always suggest students to give their 100% in interview but this does not mean that you have to change your personality to give your best. Your genuinity and truthfulness is what matters till the end.
Bravery Stories NDA Online Test Life at NDA NDA previous year Papers