Soldier Tradesman Syllabus, Paper Pattern And Books
People are often confused that what is the work of tradesman? Even people who apply for tradesman don't know what they will be doing. Basically, the job of a tradesman is to help in the smooth functioning of a unit in army. As we know that army has units, and each unit is self dependent.
They have their own equipment and vehicles and people to maintain them, there is separate armed troop, and to carry out the daily chores like cooking, laundering etc. they need people who are called tradesman. There are multiple trades for which a person can apply.
Following are the trades : chef, hair dresser, store hand,  animal store holders, ferrier, pioneers, postal, steward, artisan (wood), artisan (painter), artisan (tailor), artisan (metallurgy), artisan (musician), equipment repairer, kennel man, washer man, mess keeper, house keeper.
If you think that you are good in any of the given trades, then you can apply for that particular trade. You can pursue your skills being a government employee. After all you will do better in things you are good at.
In this article, all the details like tradesman syllabus, tradesman papers pattern and the books that are good for tradesman are given.
See also : know different reasons on why to join Indian army.
Soldier Tradesman Paper Pattern / Exam Format
To get recruited as tradesman, a candidate has to go through many physical fitness test (PFT),aptitude test, medical test, and finally the written test or CEE. The aptitude test is an exception for tradesman category, and this test is carried out to check the knowledge of a candidate about the trade that he has applied for.
Written exam format / CEE papers pattern
Subjects
Questions
Marks
General Knowledge
20
40
Maths
15
30
General science
15
30
Total
50
100
Time
1 hour
Following are the main points of the written exam :
The paper will carry total 100 marks. 50 questions will be asked in the papers. 1 hour will be given to complete the test. Each question will be of 2 marks. And there will be negative marking. 0.5 or ½ marks will be reduced for every wrong answer. However, no negative marking for leaving the answer blank.
The question in the written exam will be based on three main subjects, general knowledge (gk), general science, and maths. Part 1 which is general knowledge will carry 20 question making it worth 40 marks. Part 2 is general science, and 15 questions will be asked in this section making it of total 30 marks. Last part which is part 3 Maths will have 15 questions, and this section is worth 30 marks.
Soldier Tradesman Syllabus And Topics
The syllabus of soldier tradesman is simple. Except for the gk part, rest of the questions will come from CBSE syllabus of class 8, 9 and 10th. So, I will recommend all the readers to consider NCERT books of science and maths of class 10th (except for those who are applying on 8th base). It will be great if you prepare CBSE class 10th Science and Maths syllabus.
Here is the syllabus for tradesman :-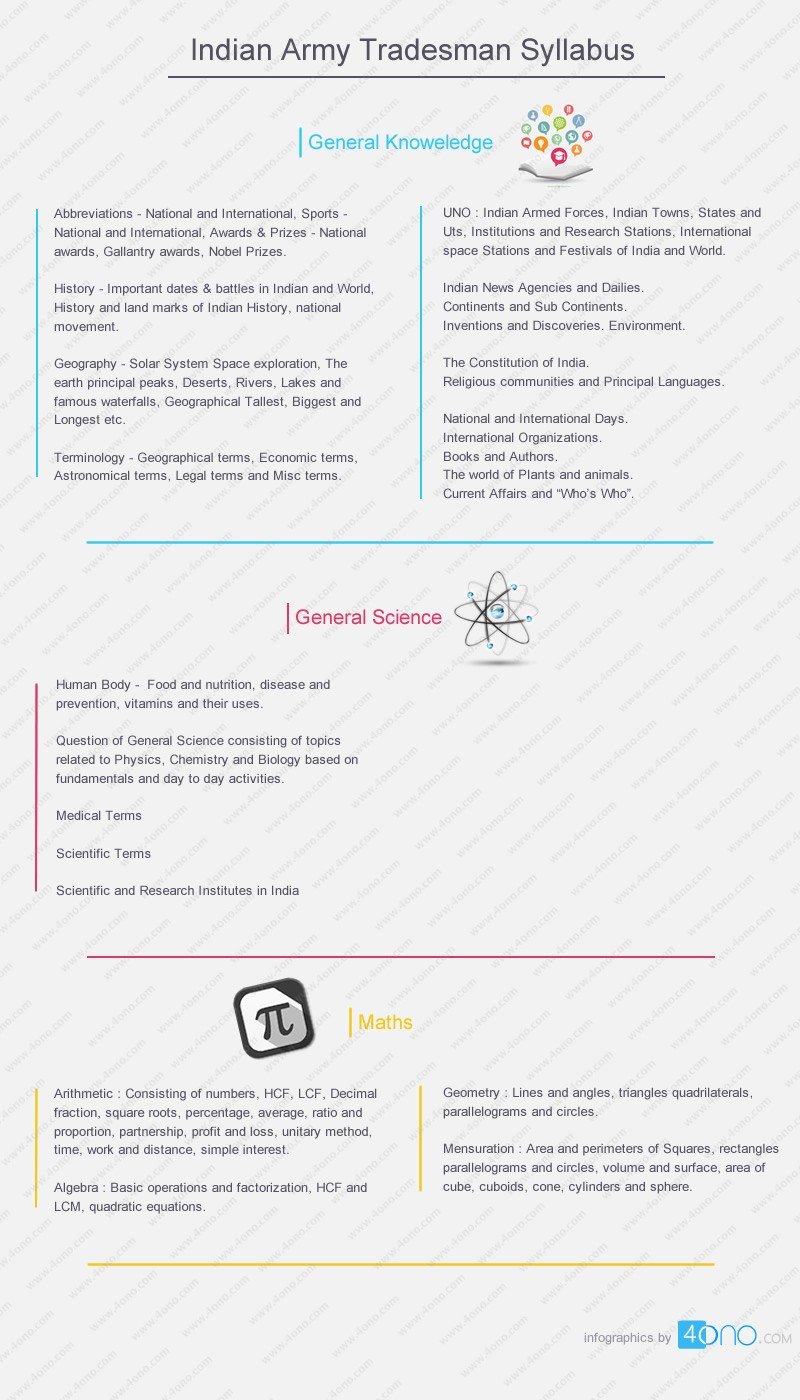 See Also : Soldier Tradesman Sample Papers And Previous Year Papers
The given list of topics is not a comprehensive list of tradesman syllabus. The question in written exam may be asked from topics which are not given. But, all the questions will come within the syllabus of CBSE, this is sure.
Best Books For Soldier Tradesman
Though, it will be better if you prepare for NCERT books, but if you are not from CBSE background, or don't feel like studying from them, then there are various publisher that provides special books for different trades. The most common ones are SK publication, Arihant publication etc.
You will find number of books in market, but choosing the right book is very important. I have seen books that shows different index and totally different content. So, make sure that you do not fall for such books. Inspect the book properly before investing in it.
See our article "best books for army" to get suggestions on different books, and you can even order books online if you want.
How is merit list made for army tradesman?
The Merit list of tradesman is made on the basis of marks scored by a candidate in PFT (30%) + aptitude (40%) + CEE (30%). So, this means that of the total marks that you will score in these tests, some percent will be added to the merit list.
E.g : if you get 60 marks in PFT, 40 Marks in aptitude, and 50 marks in CEE, then your final marks will be 18+16+15 = 49 marks out of 100.
Note : merit list / cutoff list is never fixed, therefore candidates should try to get maximum marks in every test to make sure that his name comes in the merit list.
Tips to prepare for soldier tradesman written exam
If you find it difficult to study, then these tips may help in dealing with the hard time.
Divide and study
When the syllabus looks too lengthy to cover, then the best thing to do is break it into small parts. This will give your mind space to organize things and will increase efficiency. This may sound boring, but successful implementation will surely benefit you in many ways.
Small targets
Making small targets increases the chances of success, this is the most effective way of learning and progressing. Mind is less burdened when it knows that the target is easy, and hence will work much faster to achieve it. If learning big answers is tough, then break in small facts and lines.
Procrastinate and you will lose
It's the law of universe that one who procrastinate will definitely lose, no matter what the task. So, if you are in the habit of procrastinating and putting things on tomorrow, then either you quite this habit, or be prepared for the consequences. I know that it's hard to suddenly start doing something that you have resisted your whole life, but accept the fact that there is not shortcut's for success. Hard work is the only way that leads to success.
Slow start
Don't sit for long hours to study if you can't, instead start slow. Give 1 hour daily just for studies, some will say this is lame. Why i am not advising you like others to sit at least 3 to 5 hour a day to study ? Just think it this way, if you can't force yourself to sit for 1 hr then how are you going to do it for 5 hours. If you stick with the 5 hours theory, then you will eventually end up not studying for a single hour.
Slow start is better than no start at all. So, begin with small time, and keep on increasing your study time gradually.
Make it interesting
One of the main reason why we procrastinate when it comes to study is because books look boring to us. Just some gloomy white pages, and black words. So, this problem can be fixed by making study interesting, and how to do that ? Simple. Use other sources like internet, tv, your smartphone, etc.
Just look around, world is full of knowledge, all you need is the will to gain that knowledge. Internet is filled with websites and applications that are providing an easy and interactive learning on almost every topic. So, instead of just lingering on social network, put your smartphone and internet to a good use, and gain some knowledge.
Try to implement these techniques in your daily life, they will help you a lot. Hope this write up was useful to you. You can mention your queries via comments.
Army – online Maths questions Gk questions army Online Registration Army training Videos