Indian Army Soldier GD Sample And Previous Year Papers PDF 2020
Indian Army – The part of Indian Armed Forces by being a land based branch. Every year, thousand of students dream to be a part of the world's second largest standing volunteer army having 1,100,000 soldiers in active service and about 960,000 reserve troops.
Buy : Best Books For Indian Army GD
It's a kind of proud privileged to be a part of it. Not that easy as it seems to be,  written tests, physical tests, medical test etc. make it more troublesome. But still, hundred of candidates get selected through these processes.
There is no goal too far, no mountain too high!
Indian Army Soldier GD Sample Papers 2020
The Army in which the soldiers are considered to be the one among the very best in high altitude and mountain warfare recruits a mass of deserving aspirants every year. And this year too, the vacancies for General Duty has been released by the department. Just grab the chance before it gets too late.
Talking about previous years, there was only an open Bharti, and all the aspirant needed to visit the live place where they had to register their names, and then they could easily take part in the Bharti. But, now  the procedure has changed to apply for the Bharti. Now, first you have to fill the online application form to make yourself eligible for taking part in Bharti.
There is so much more you need to know about the selection procedure. Just go through the whole write-up and stack up the relevant stuff.
Indian Army Soldier GD Unsolved Papers
नीचे दिए गए बटन से आप इंडियन आर्मी जी. डी. के 10 unsolved सैंपल पेपर्स खरीद सकते है।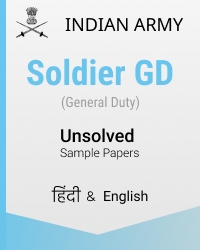 GD 10 Unsolved Sample Papers
Price: ₹ 49
Language: Hindi & English
Format: PDF (10 pdf files)
Delivery: On your email
Description: Buy Army GD 10 unsolved papers with answer key in Hindi and English.


Unsolved
Indian Army Soldier GD Solved Papers With Explanation
यहाँ पर ऊपर दिए सैंपल पेपर के हल Explanation के साथ दिए गए है। इंडियन आर्मी GD की अच्छी तैयारी के लिए अभी खरीदें, हल किये गए मॉडल पेपर ( English / हिंदी में उपलब्ध)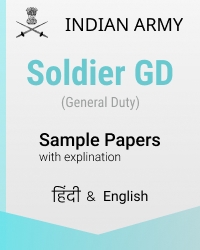 GD 10 Solved + Unsolved Sample Papers
Price: ₹ 220
Language: Hindi & English
Format: PDF (20 pdf files)
Delivery: On your email
Description: Buy Army GD 10 solved + unsolved papers with detailed explanation for each and every question in Hindi and English.


Solved + Unsolved
The previous year papers from last 5-10 years, which can be damn helpful to crack the exam. Well! No matter for which competitive exam you are preparing, previous year papers are equally important everywhere. Previous year papers of Indian Army Soldier GD will help you to understand the level of difficulty in the exam.
In addition, you will get to know the sort of material which is generally asked in the exam. The most important part is the exam pattern. The papers from previous years will clear your concepts even better.
Check out how to prepare for Indian army.
Indian Army Soldier GD Complete Syllabus and Marking Scheme 2020
Before moving further to practice the Previous year papers, it is necessary to check on the exam syllabus. If you know it already then check it once again as a little mistake can cost you a lot.
First of all, let me clear that your selection will be done on the basis of Physical Measurement test, Physical Ability Test and Medical Examination followed by a Written Test.
More Hindi/English sample papers
Written Exam Pattern
There will be 50 Objective Type questions to check your basic knowledge in different subjects. Finally, you will be selected on the basis of merit after passing this written exam.
Total Marks:- 50 marks
Duration:- 01 hour
Subjects:- GK- 30%, General Science- 40%, Maths- 30%
Now, let's know the syllabus of every particular subject in details.
MATHS
Like I said, there will be 30% questions from this section which comprises the following topics: Arithmetic,  Algebra, Geometry, and Mensuration. There will be basic questions from these topics which will test your ability up to 10th level.
General Science
This section is damn important and easy to cover. The general questions from Science section will be there in this part, like Human Body, Food and nutrition, disease and prevention, vitamins and their effects, Basic knowledge of Human body parts, Medical Terms, Scientific Terms, Measure, and Scale, Scientific and Research Institutes in India.
The questions will revolve around these basic topics. Just study hard for General Science and you can easily acquire good marks on the whole.
General Knowledge
Most of this section will cover the Current Affairs related to latest affairs of the country and the world, Just pay special attention to them. Apart from this, there will be questions from Environment, Books & Authors, The world of plants and animals, Religious Communities and Principal Languages, National & International Days and International Organizations.
That was the summed up syllabus of each subject. But, it is recommended not to depend only on these topics. Study everything, just get the stuff from every book you get and prepare well. But if you are running out of time then, you should prepare these topics first.
How to prepare for Indian army GD(N.E.R) Exam – Important Tips
Important tips by experts to crack the Indian Army GD exam. I hope, it will help you to the core.
Be firm for your Goal
Have a positive attitude towards your goal. You can change the way to reach your goal, but changing your goal is not an option, be firm. Now matter how much difficult it is to acquire, just give yourself a daily reminder that you can do it, and you definitely will.
There will be people who will discourage you to chose the track of Indian Army as it is difficult, but don't listen to them, just listen to yourself.
Be Clear: Eligibility, Pattern, Syllabus & Everything
Generally, even the meticulous candidates get confused and commit mistakes. I have seen so many people kicked off because they did not fit in eligibility criteria.
Before you apply for any open rally, make sure you fulfill all the eligibility criteria. You can go on the official website or ask us via comment if you are not clear about your eligibility.
Be regular, Study is not a single day event
Last night studies can never bring you good marks. So, it's an urgency to study regularly from day 1, no matter how much hard work you do at the last moment, the efforts from the beginning matters.
Revision: The more is always less
The more you revise, the more stuff you will get. It's a fact, gathering knowledge is a never ending process and if we are talking about Indian Army exam, then it's a necessity.
Revision is so necessary. Whatever you study in a day, revise it at night, it will help you a lot. Things will start getting easy automatically.
Previous Year Papers, Sample Papers – Solve whatever you get
There is lots of stuff in the market and on the web. All you need is a smart selection and never ending efforts. Download the previous year papers from here and start practicing.
The more you practice, the more you will get closer to your goal. Just practice, whatever you get. First of all, it will increase your efficiency and secondly, you will get to know all important questions. What's better?
There is one more plus point, you will get to know, how actually you have to manage the time. So, start it today.
Physical Fitness: This is all which is required until the end
Physical Fitness is so much important, this is what you need till the end. You will be required to be in your perfect medical condition if you really want to get in Indian army.
The race is the first and the most difficult part of the Army Bharti, most of the candidates are weeded out just in the racing part. And there is no way you can get through racing if you have not done at least 2 to 3 months of preparation for it.
So make sure you practice well for the racing part of the Bharti.
Beware of Negative: Either, Negative marking or Negative thoughts
We are humans and it takes merely few seconds to divert our mind from positive to entire negative. Beware! You never know, it can spoil your whole dream, and stop listening to others, Just follow your ambitions with dedications.
There will be negative marking in the exam, so choose your answers very carefully. In Army written exam, each and every mark matters a lot.
Television is not only to watch daily soaps
Who said that television was invented for entertainment? It can be used in many better ways. For instance, you can know about the happening around you by watching the news channel.
I know, it's boring but in order to stay updated with the current affairs, this is the best way. Read the newspaper, watch news channels or whatever you like, just do it in your own way, include it in your daily routine.
I hope, the tips provided here will help you to crack the exam. All the best for your written exam.