Indian Army GD physical eligibility, selection process(Bharti) details
The Indian Army is known as Thal Sena(भारतीय थलसेना) in Hindi, having the largest number of soldiers(Sainik) in it. This territorial army of India has proved to be a great defense system, and hence, a vast number of youth from different states of India want to join Indian army.
The Indian Army has a regimental system(Regiments of different states) which is then divided into 7 commands on the basis of operations and geographic locations.
Hello, my name is Ashok, and in this article, you will get all the details like Indian Army GD Eligibility, Indian Army GD Selection/Bharti Process, Indian Army GD Physical Criteria, Syllabus, written test and the procedures on How to Join Indian Army GD.
Indian Army GD is a part of general duty section, where the real defense soldiers exist, this includes the Rifleman, the land defence force, fighting troops, drivers, operators, gunners etc. And it also includes Army Service Corps (ASC), Army Medical Corps (AMC) on drivers, Ordnance, General Duties, operators etc. Below are the complete details about the Bharti process for Indian Army GD.
But before I proceed, let me tell you that you should know all the advantages and disadvantages of joining the Indian army by reading why to join Indian army.
How To Join Indian Army GD(General Duty) – Eligibility And Qualifications
In order to join the Indian army, you must have the following qualifications and physical qualities.
Educational and physical criteria include the following points.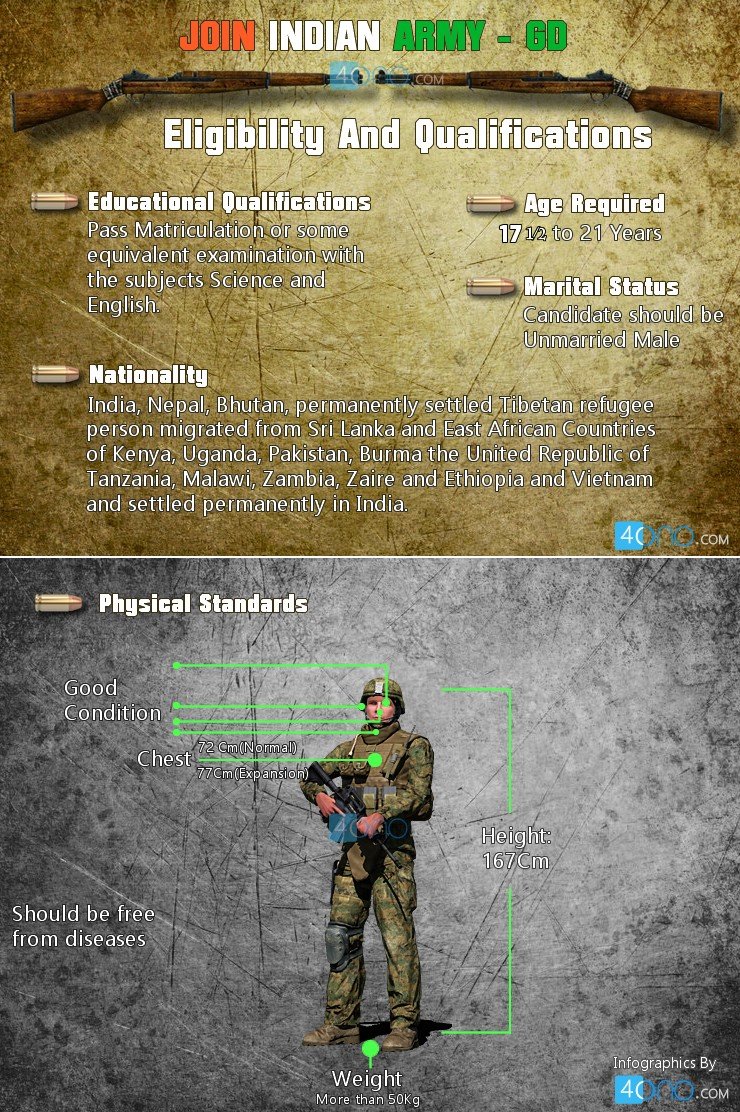 Boost your motivation by watching the Indian army training videos that we are offering.
1. Educational Qualifications
In order to join the Indian Army GD, the candidate must be Matriculation passed, or some equivalent examination with the subjects Science and English. This is the minimum educational requirement to get entry in Indian army GD(NER) exam.
2. Age Required
The Age group of the candidate must fall between 17½ to 21 years, as per original documents of the candidate.
3. Nationality For Indian Army GD
In order to maintain the integrity, the defence government of India has set the following rules for nationality to join the Indian army from same or different countries. The criteria for nationality is as follow.
All the candidates from India can join Indian army(qualified with above qualifications).
Candidate having the nationality of Nepal and Bhutan can join Indian Army.
The permanently settled Tibetan refugee in India, who came to India before 1st of January of 1962 can also apply.
A person migrated from Sri Lanka and East African Countries of Kenya, Uganda, Pakistan, Burma the United Republic of Tanzania, Malawi, Zambia, Zaire and Ethiopia and Vietnam and settled permanently in India can also join Indian army.
Candidates falling in point 2, 3 and 4 should have the certificate(Regarding the nationality) in their own favour issued by the Indian government.
However if a candidate belongs to Nepal or a Gorkha subjects are not necessarily required the certificate of eligibility of nationality.
4. Marital Status
Candidate should be Unmarried Male following all the above points.
5. Physical Standards and Eligibility
In order to recruit the best candidates, there are sets of physical standards formed by Indian defence government. The physical Criteria are as follow.
The height of the candidate must be of 167Cm. This criterion can be relaxed according to the region of the candidates and mostly for Gorkha candidates.
Minimum chest of the candidate after the expansion should not be less than 77cm, there must be a minimum expansion of 5cm.
The Weight of the candidate should not be less than 50 kg.
The candidate must be free from the communicable diseases and cardiovascular, infections, surgeries etc. Candidate should not have a past of some mental disease. Nose, ear and throat must be perfectly working.
Physical Standards according to the region of the candidate
| Region | Height | Weight | Chest |
| --- | --- | --- | --- |
| Ladakhi Candidates | 158 cm | 50 Kg | 77 cm |
| Nepalese, Indians and Gurkhas | 157 cm | 48 Kg | 77 cm |
| Lakshadweep Group including Minicoy, Andaman Nicobar Islands | 165 cm | 50 Kg | 77 cm |
| The Locals Candidates | 155 cm | 50 Kg | 77 cm |
| Recognised tribal areas | 162 cm | 48 Kg | 77 cm |
| Brigade of the Guards | 173 cm | 50 Kg | 77 cm |
| Med Arty | 170 cm | 50 Kg | 77 cm |
| Corps of Military Police | 173 cm | 50 Kg | 77 cm |
| Clerks GD/SKT | 162 cm | 50 Kg | 77 cm |
The above physical criteria can change according to the situations and regions of the candidate, but these are the standards decided for the recruitment process.
Indian Army GD Selection Process(Bharti) details
Following steps are required, to become a Soldier/Sepoy in Army?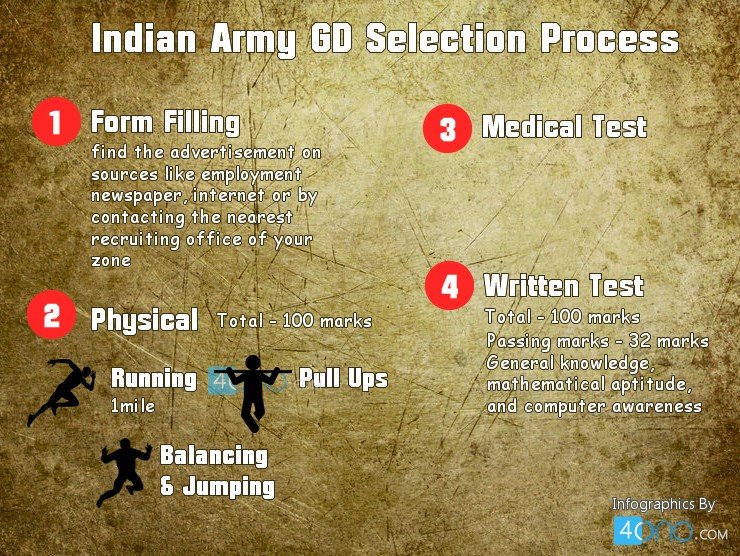 Step 1: Form Filling
The very first step is to find the advertisement on sources like employment newspaper, the internet or by contacting the nearest recruiting office of your zone. The dates are then announced on notice boards and media sources which include the important information about the required documents like Educational Certificates, Extra physical activities certificates, Birth certificate, Character certificate, Domicile and number of passport size photos.
After filling all the required details and attaching all attested documents, the form is then submitted to the nearest recruitment office. Next step is to wait for the admit card which will carry the information like date, time and place about the Bharti. According to latest trend you can download the admit card online and take a printout of it.
Step 2: Physical
This is one of the most important steps during the Bharti process which carries 100 marks depending upon the different physical activities known as physical fitness test(PFT), activities include the following.
Note the figures written below should be taken as standard figures, and these figures may vary according to the place and the time.
1-mile run is the primary step of selection process every candidate has to run about 1 mile. Lesser the time you cover 1 mile, more will be the marks you get. The standard marks distribution is as follow.

60 marks for – 5.40 min.
48 marks for – 5.41 min.
36 marks for – 5.51 min.
24 marks for – 6.01 min.

Please note that from 1 April 2017, the rules of 1.6 km racing will be changed.

Pull Ups comes after the 1-mile run and hence the second phase of physical fitness test, more the pull ups the candidate do, more will be the marks he will get, the standard marks distribution is as follow.

more than 10 pull ups – 40 marks
for 9 pull ups – 32 marks
8 pull ups – 28 marks
7 pull ups – 21 marks
6 pull ups – 16 marks

Balancing and jumping are the last steps of physical fitness test since this is a qualifying test hence, no marks are awarded for this step. Balancing includes that how good a candidate is in balancing himself, this is tested by climbing and walking on ropes. In standard jumping, a candidate has to jump a 9 feet ditch. These steps are important. If a candidate has scored good marks in above two physical fitness test and could not qualify the balancing and jumping, then he will be kicked out.
Step 3: Medical Test
To join Indian army, a candidate must be medically fit so that he can serve his country with his best. A candidate has to pass a number of medical tests to join Indian army. The Candidate should be medically fit for the following points.
Candidate should not be suffering from any mental disease. Candidate should be free from diseases/disabilities and must possess a good physique. Candidate should not have body defects such as overweight etc.
The chest of a candidate should be well developed and in a good shape, there must be a minimum expansion of 5 cm during the chest measuring test.
Candidate should be free from bone diseases and bone joint defects, each important bone joints are examined during the medical test.
Your hearing, viewing and speaking ability should be very clear. Candidate having disease or problem in their ears, eyes and throat will be rejected.
Candidate must not have organic diseases such as disease related to heart and vessels. The blood pressure should also be under the limits.
Candidate must not possess any disease regarding internal organs such as liver, kidneys, spleen etc, having such diseases can give you a rejection.
Urine examination is also done during the medical process.
Your teeth should be in good condition.
Step 4: Written Test
If a candidate has qualified all the criteria given above then the candidate has to clear a written test called Indian Army General Duty(NER) exam.
This is a common entrance exam(CEE) which is conducted on 4th Sunday of each month except March, June, September and December, for different government job areas. This exam consists of 4 sections general knowledge, Maths, General science, basic computer questions. For general duty recruitment, there is only one paper which has the time limit of 1 hour and carries 100 marks in total.
A candidate must score minimum 32 marks to pass this exam.
Note: the 'C' certificate Holders candidates are not necessarily to give this written exam, but they must fulfill all the other requirements mentioned above in this article.
1. General Knowledge – 30% marks
Make you GK strong by practicing Army GD General knowledge question and answers that we are offering.
|  Topic | Questions From |
| --- | --- |
| Abbreviations | National and International |
| Sports | National and International |
| Awards & Prizes | National awards, Gallantry awards, Nobel prizes |
| History | Important dates & battles in Indian and world History and Landmarks of Indian History, national movement. |
| Geography | Solar System, Space exploration, The Earth, Principal Peaks, Deserts, Rivers, Lakes and famous Waterfalls, Geographical Tallest, Biggest and Longest etc. |
| Terminology | Geographical terms, Economic terms, Astronomical terms, Legal terms and Misc terms. |
| Other Topics |  UNO, Indian Armed Forces, Indian Towns, States, and UTs, Institutions and research stations, International space stations and festivals of India and world, Indian News Agencies and Dailies, Continents and Sub Continent, Inventions and Discoveries, Environment, The Constitution of India, Religious Communities and Principal Languages, National and International Days, International Organizations, Books and Authors, The world of  plants and animals, Current Affairs and "Who`s Who". |
2. General Science – 40% marks
Click on the link given if you want to practice Army GD General Science questions.
| Topic | Questions From |
| --- | --- |
| Human Body | Food and nutrition, disease and prevention, vitamins and their uses. |
| Physics | General Physics(Related to day to day activities) |
| Chemistry | General Chemistry(Related to day to day activities) |
| Biology | General Biology(Related to day to day activities) |
| Medical Terms | Name of diseases and terms used in medical science. |
| Scientific Terms | Commonly used scientific terms in daily life also includes  Research Institutes in India |
3. Mathematics – 30% marks
|  Topic |  Questions From |
| --- | --- |
| Arithmetic | Unitary method, time, work and distance, simple interest, numbers, HCF, LCF, Decimal, fraction, square roots, percentage, average, ratio and proportion, partnership, profit, and loss. |
| Algebra | Basic operations and factorization, HCF and LCM, quadratic equations. |
| Geometry | Lines and angles, triangles, quadrilaterals, and parallelograms and circles. |
| Mensuration | Area and perimeters of Squares, rectangles, parallelograms and circles, volume and surface area of cube, cuboids, cone, cylinders and sphere. |
Ranks For General Duty Soldier
As all of you must be aware that after the 6th and 7th pay commission, the future of a GD soldier is very bright in Indian army. There are so many benefits of being in the army like you get the free medical services etc. though the commission is deducted each month from the salary for such facilities, yet they are very beneficial.
Now if you are wondering how high can you go in aspects of both rank and salary, then below is the rank and salary structure that a GD soldier can go for:
You will be recruited for the post of Sepoy first, the basic grade pay for this post is around Rs. 1800.
The next post that you will be promoted to is lance naik and you will get the basic grade pay of somewhat around Rs. 2000.
Naik is the next higher post that you will be promoted to, and the basic grade pay of this post will be Rs. 2400 approx.
Next level will be the Havildar and the basic grade pay for this post is Rs. 2800.
Naib Subedar will be the next higher post and the basic grade pay for this will be Rs. 4200.
When you get promoted to the post of Subedar then the basic grade pay gets to Rs. 4600.
And the last post that you can get to is Subedar Major and the basic grade pay for this post is Rs. 4800.
Starting from the post of sepoy the maximum a candidate recruited in GD can go is SM(Subedar Major) post.
Please note that the above-given information about the salaries may not be 100% accurate.
See: Rank Wise Salary In Indian Army
Indian Army General Duty Sample And Previous Year Papers
If you are preparing to join the Indian army then you will need to work very hard, as these days the competition is very high. As for physical, you will need to put all your efforts, especially in the running part. And to crack the written exam, you will need to practice the sample and previous years papers which are given below.
Click below buttons to download the previous year and sample papers regarding Indian Army GD.
Hope this article was helpful for you. Please feel free to write your comments.
How To Prepare For Army Army Online Test Indian Army Books Apply Online