Life Of A Cadet In NDA – Daily routine
While the age of 20s is to enjoy life and merry making, there are only few brave youngsters who write an exam conducted by UPSC to get into the National Defence Academy and prepare relentlessly for a life of supreme sacrifice and valour. They live the most difficult three years of their lives to become a proud soldier of their nation, to pass out from one of the most prestigious military academies in the world and most of all, to serve the nation as a top-notch officer.
See Also: Complete Detail About NDA : Application Fees, Exam Dates, Eligibility Criteria and Many More 
I came across so many curious minds who wanted to know that how actually the life of a NDA cadet is ? What all they go through in those 3 meticulous years ? What should be their way of survival in National Defence Academy which initially seems to be no less than hell ? Here, i have tried the best possible way to satisfy those inquisitive's.
See also: Indian Army rank wise salary
Life at National Defence Academy
In the beginning, there will be all panic for a person who get in to the academy. The place will scare like hell and training will seem no less than a physical and mental torture. You have to wake up at 3:30 am to join your seniors who are just there to humiliate you now and then, either if you get injured or fail. In few days, you will start feeling a merciless, unemotional and egoistic atmosphere around you. At some instances, Prisoner of War seems to be living a better life.
The back-breaking physical training has led to an alarming number of cadets dropping out of the National Defence Academy. In the 127th course, out of 400 cadets who were admitted in the academy, there were 40, who chose not to complete their course and left midway.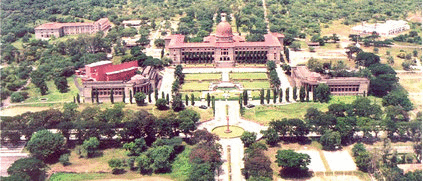 But, the moment you realize that you are not the only to undergo this, it will be a lot easier. And the very same training period will become a valuable asset throughout your life. A process of turning a boy into a man is carried out in this period. Everybody will pretend to be rude, and this is just because they want to extract the best out of you. Once you start developing a positive attitude, you will get accustomed to the military discipline quickly, and, will start enjoying life at National Defence Academy. Once you pass out from the academy, you will cherish the memories for life.
See also: How to crack NDA SSB
Training Period
The training period in National Defence Academy is more than you can ever imagine. The NDA training is a lot more than Academics. The period is spread over six terms having five months each. There will be endless tests to clear. From academic exams to PT, swimming, horse riding, firing, drilling, tactics, navigation etc. And this will be all done under peer pressure of officers, instructors and seniors, ensuring that you meet the very exacting standards of discipline in the academy.
The cross country runs and inhuman camps where one have to run distances up to 50 km carrying 20 kg at night in the hills of Pune just add to the agony. It is a hard life, and i remember, once a batch mate of mine had a slight injury during this run and it became life threatening to him and finally he got kicked out from the academy. 
Cadets have to learn to take everything with a pinch of salt. Push ups, press ups, crunches, constant running becomes a part of their life. In the training period, you will get to know that life is what it should be. Not the reactionary catastrophe that goes around in the name of education these days.
All in all, you will get life long friends, teachers and companions, and you will come out as the nation's finest. In training period, no one will search for brilliance in you, but they are looking more for cadets who have a comprehensive set of qualities like intelligence, courage, confidence and physical fitness, more accurately medical fitness. The training period in National Defence Academy will ensure that you are physically fit by the time you pass out.
Generally, outsiders think training as a cakewalk but cadets struggling inside know the real pain. There were instances at my time when cadets got fail in NDA training which is known as Relegation. Cadets who get fail in academics, or physical tests or even on disciplinary grounds, or due to prolonged absence from training are relegated for a period of 6 months. You need to be regular in the academy by being fully energetic in academics and physical tests as well.
Training Schedule
The training given for the first 2.5 years in the National Defence Academy is common to the three wings. At the end of the three years, cadets will be awarded B.Sc./B.A. degree from Jawaharlal Nehru University, Delhi.
In the final year, cadets would have specialized training. Army Cadets go to the Indian Military Academy, Dehradun, Naval Cadets to the Cadets Training ship and Air Force cadets to Air Force Academy, Hyderabad.
At Indian Military Academy, army Cadets are granted Permanent Commission in the rank of Lieutenant on the completion of training of 1 year.
At Cadets Training ship, Naval cadets are selected for the Executive, Engineering and Electrical Branches of the Navy. For the first six months cadets are given sea training and on completion, they get promoted to the rank of Midshipman.
Air Force Cadets receive flying training for a period of one and half year at Air Force Academy and at the end of 1st year of the training, they are given provisional commission in the rank of Flying Officer.
Are mobiles allowed for cadets at NDA?
No. As per the rules of National Defence Academy, mobile phones are prohibited. Officers are there on a regular checking and if a cadet is found with a mobile phone, he would directly get 21 restrictions. One should know that restriction is a kind of punishment and one would fail one term if he get 36 restrictions. There is STD booth and squadron land line phones in the academy which a cadet can use at the time of urgency. Though, i have seen few cadets who try to keep mobile phones with them secretly but it is not advisable at all.
How do cadets celebrate festivals at NDA?
NDA cadets get a day off for major festivals. A single day in which they are given freedom to move out of the Academy to visit nearby. But, one cannot start celebrations a day early nor they can continue onto the next day. Cadets bring stuff for celebration and celebrate in the evening once everybody get back. Generally, every festival is celebrated in the same way as it is celebrated outside in India. Few hours of a celebration has its own significance in the academy. There is also a special arrangement for those cadets who take fasts at exceptional occasions. Even, the mess provides food before sunrise and late at night for the fasting cadets (when it is necessary). 
NDA is more about events and competitions than festivals. Everywhere, you will notice a zeal to do something better instead of worldly celebrations. Winning a competition, achieving an overall championship, the Passing out Parade and what not is there to cherish more than festivals.
Do NDA cadets have their Sundays off? holidays and sundays
As per the parameters of NDA rule book, cadets get their Sundays off. But, if you ask a person like me who have experienced every little thing in the academy, then the answer is absolutely NO. It is all based on the cadet that if he clear his drill test or not. Though, you get the free time in which you can go to nearby Market to buy essentials,  can make call. But, only this much. This is all we use to do on Sundays.
And, you must be well aware of the fact that they do not get even a single holiday for the first month.
Is pocket money/salary given to NDA cadet?
Yes, a pocket allowance of 2000 is given for five months to cadets, that means a meager amount of 400 per month. Along with it, the cost of  training including accommodation, books, uniforms, boarding and medical treatment will be all afforded by the government. Guardians are required to fulfil private expenses of their wards.
If under some circumstances, guardian of a cadet is unable to meet his private expenses then government grant financial help to that cadet. Financial assistance up to Rs. 175 per month would be granted by the Government. The eligibility for this grant depends on the income of guardian which should not exceed Rs. 1500 per month.
Cadets on their arrival in the academy are required to deposit some amount which is as follows :
| Amount Distribution | Amount |
| --- | --- |
| Pocket allowance for five months | Rs. 2000.00 |
| For items of clothing and equipment | Rs. 3200.00 |
| Incidental Expenditure during 1st  Semester | Rs. 425.00 |
| Total | Rs. 5625.00 |
Out of the above given amount, there is some amount which is refundable to cadets if financial aid is being sanctioned.
| Amount Distribution | Amount |
| --- | --- |
| Pocket allowance for five months at Rs.400.00 p.m. | Rs. 2000 |
| For items of clothing and equipment approximately | Rs. 475 |
NDA Cadet Salary During 1 Year Training
Once the cadet reach Indian Military Academy, Air Force Academy and Naval Academy, he starts earning Rs. 21000 a month. He is actually authorized the salary of a Lieutenant or Flying Officer or Sub Lieutenant but this is what he get. Once commissioned the balance is paid to him as outstanding payment to his stipend. As NDA cadet, he won't get salary.
What are the punishments given in NDA ?
You will often have to face dreadful punishments in the academy. Not just front rolls, push ups, hand stand, running but much more. I remember one such horrible punishment of my time, helicopter. A cadet had to drink as much water as possible (3 litres minimum), then he is ordered to extend his arms sideways, look up and start spinning. The spin and the enormous amount of water in the stomach never goes well in the body. Stomach acts as a pump and started pumping the water upwards. The cadet will surely throw out in less than 3 spins. The procedure is repeated to the extreme point.
There are so many more like this to turn boys into strong soldiers and then officers.
Accommodation
The moment you get into National Defence Academy, an individual cabin will be allotted to you equipped with basic resources. The cabin allotment plan in the academy is created by a Senior Cadet Appointment of each respective Squadron. Each Squadron has a ground floor, first floor and second floor. Each floor has an equal distribution of number of cadets that is approximately 120 Cabins for 120 Cadets.
Food
The food for cadets at National Defence Academy is selected by the scientists of Defence Institute of Physiological Research to ensure that cadets get enough calories for their daily requirement. They have fully equipped kitchens and trained cooks.
In breakfast, usually there is porridge followed by eggs, or cadets can take toast with butter and jam in any quantity. Lunch except Saturday and Tuesday comprises of rice with vegetable or dal or chicken. On Tuesdays and Saturdays, roti and puri are served instead of rice. Dinner is mostly continental with bread or chapatis. You can eat whatever you want and the plus point is that the routine in National Defence Academy will ensure that you digest whatever you eat.
Apart from this, cadets have to eat in discipline and in a proper manner with all the table manners. While eating, a cadet must be dressed formally and must display good manners while greeting juniors or seniors.
Education
Education forms an integral part of the curriculum of National Defence Academy which is imparted by qualified and highly motivated Civilian and Service Instructors. NDA always promotes technology oriented, innovative learning processes, to explore the skills of cadets, develop their spirit of inquiry, logical reasoning and lateral thinking.
However, to be honest, it is not necessary to do well in academics, only the inter-course merit is quite dependent on academic scores. As a cadet, one must focus on doing equally well in all the fields.
NDA Training Daily Schedule
The day of a cadet starts at 4:00 a.m. and 2 hours are utilized in physical conditioning including physical training, Drill, horse riding, firing, etc.
After that, he has to go for two hours of outdoor training. After completing that, a break of one hour is given to the cadet for breakfast.
And then, he has to go for academics to study his bachelor till 2:00 p.m. Afterwards, cadets sit together for 45 minutes to take lunch. 3:00 p.m. to 6 p.m. is invested in playing games or doing PT, which develop a spirit of sportsmanship in a cadet.
From 6:30 p.m, cadets are expected to study till 8:30 p.m. after which the dinner is served. About half an hour is spent in dinner, and then again cadet has to give 1 hour to sports or PT. Along with this, they also practice for camps in this one hour. Till 10:30 p.m, every cadet has to turn in, only to repeat the same cycle day in and day out.
The daily schedule slightly differs as per your seniority in the National Defence Academy. But, there is one thing in common, that the pace at National Defence Academy is quick and extraordinary. So, time flies. In a short time span in the academy, cadet figures out his existence with unbelievable zeal and enthusiasm. Each Day, you spend in the academy will count as one of the brilliant moments of life.
What After Training?
When a cadet successfully pass from the National Defence Academy after completing training period of four years, he get's a BA or BSc. Along with it, he has to choose any of the three armed forces and thus, the last one year of cadet would be spend in  IMA/INA/AFA depending on what he has been selected for.
On completion of four years, he would get commissioned as an officer in Indian Armed Force and would be a Lieutenant in Army, Sub-Lieutenant in Navy or Flying Officer in the Air force. The gross salary at this stage would be approximately 60000 per month.
NDA Syllabus NDA Online Test Selection Process NDA Interview Questions