Indian Army Clerk/SKT Sample And Previous Year Papers PDF
Indian army is the 4th greatest army in the whole world, and each year it recruits numerous people in different department and trade. Of all the trades that are available in the Indian army, clerk or SKT (store keeper) is one of the most famous trades.
Every year army releases a number of recruitment for this trade, and thousands of candidates from different parts of the country apply for it. According to a research, out of 100 people that apply for bharti, only 5 make it to the final merit list.
The competition is enormous, and only those who will be fully prepared for every test will get recruited. Since you are reading this article, therefore, I assume that either you have cleared the physical and medical test, or you are confident and preparing for the written in advance. Either way, you are just on the right path, keep going.
If you are looking for the army clerk sample papers and previous year papers, then the link to download them is given at the top. Just click on that link to download the Model papers in the pdf format. And you can continue reading if looking for tips on how to prepare for written exam or CEE.
Army Clerk Sample Paper And Previous Year Papers
Practicing sample papers and previous year papers is very important before you go for the written exam. They give you the idea about how the exam is going to be. Also, while practicing them you will come to know your weaknesses and can work on them while you have time. You know what type of questions are asked in the exam after solving practice paper. It's like giving exam again and again without worrying about the failure, to gain experience.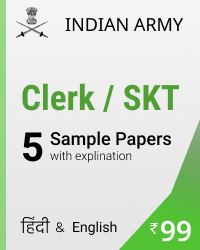 Clerk 5 Solved + Unsolved Sample Papers
Price: ₹ 99
Language: Hindi & English
Format: PDF (10 pdf files)
Delivery: On your email
Description: Buy Army clerk 5 solved + unsolved papers with explanation for each question in Hindi and English.


Solved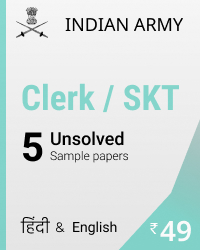 Clerk 5 Unsolved Sample Papers
Price: ₹ 49
Language: Hindi & English
Format: PDF (5 pdf files)
Delivery: On your email
Description: Buy Army clerk 5 unsolved papers with answer key in Hindi and English.


Unsolved
Hope you understand the importance of clerk sample papers. Now, before you begin your practice, you must know the paper pattern of clerk written exam. This is how the exam will be:-
The CEE of clerk will come in two parts (part 1 and part 2) each part will carry 100 marks, and it is compulsory to score 32 marks in each of the parts to get pass. Also, the total of both the parts should be 80 or more than 80 marks.
Part 1 will carry 25 questions each of 4 marks. 05 questions of general knowledge (GK), 05 questions of general science (GS), 10 questions of Maths and 05 questions of computer will be asked in this part. Part 2 will carry 25 questions each of 4 marks and all the questions in this part will be based on English.
Do not attempt questions that you don't know or which you are not sure about, because there is negative marking in written exam. 0.5 marks or  ½ marks will be deducted for every wrong answer. So, leave the question that you don't know because there will be no negative marking for leaving any questions.
So, this is how the question paper will be on the day of the exam. Don't hesitate to ask questions if you have any doubts regarding army clerk paper pattern, or if you are facing any trouble in downloading the model papers.
You can also see our article army clerk syllabus and paper pattern/format.
How To Prepare For Written Exam Of Army Clerk
Preparing for written exam is a very boring task, people will rather prefer a physical over the mental task. But, this is where winners make their move. Controlling mind is way more difficult than controlling body, only constant efforts and sincere dedications can gain mind control. So, don't give up and put all your efforts. Here are some tips that will help you:-
See also:- Best books for Army clerk.
Focus more on English
English is the most important subject from exam point of view, because 25 questions will be asked based on English, and will be of total 100 marks. Even if you are weak in other subjects, still you can score plenty of marks that will get your name in the merit list if you have a good grip on English.
Practice is the ultimate way to improve your English, practice as much as you can. Reading English stuff daily like English newspaper, books etc. can improve your English in a significant manner. Other sources like English movies, songs etc. are also proven tools to improve English.  And of course, you will have to read the syllabus as well.
Second priority to maths
After English,  Maths is the subject that carries most questions. Maths questions will be worth 40 marks i.e 10 questions, which makes it important to prepare. NCERT book of class 10th and 9th are the best way to prepare maths. But, if you don't want to practice from them, then you can look for other books for army clerk.
Make sure that you feed the basic formulas and facts in mind, because if your base is strong then you will be able to solve the questions easily on the day of the exam. You can write the important formulas in a separate notebook so that you can revise from it at the end moments.
Maths is something that can not be cramped, only practice will improve you. So, practice maths daily, then only you will be able to score full marks in it.
Regularity is important
Inconsistency only brings instability, if you are not regular in your studies, then you will always live in the fear of getting fail in exam. Bearing with the thought that you are not studying will always keep your mind in stress. To avoid this, you need to study regularly.
Pick a fixed time of the day when you will sit to study. If you are not in the habit of studying for long hours, then make the time period short. 2 or 3 hours in a day are enough to study, but you have to be dead sure that your mind is just focused on studying and not wondering while you sit to study.
Focus your mind
The most important for effective learning is complete focus. Most of us face the problem not being focused on one thing for a long time. Thankfully, there are multiple ways to improve focus.
If you are having problems with focusing your mind while studying, then the best option is not to sit for long studying hour. Divide your studying time into small pieces like, half an hour in the morning, half after breakfast  etc.
Meditation is the ultimate technique to hold mind on one thing, but it takes time to show results. Since you will have you written exam very soon, therefore, this technique may not be very fruitful to you right now. But, you can practice it daily for 10 minutes, it will benefit you in a lot of ways.
Revision is necessity
If you forget what you studied 3 or 4 days earlier, then congratulation! you are just like other normal human beings. Almost everyone forgets things that they learned 3 or 4 days before, and this, of course, is a problem. Revision is the only solution for this problem.
Doing time to time revision is the most effective way of remembering things. Your mind will recover thing faster with each revision, and after 3 to 4 revisions, it will be printed in your mind. And that is how our mind works, if we keep on reminding it something again and again then a time comes when it automatically remembers it forever. Just like you remember how to add two numbers or tables etc.
So, do revise things to retain them for a long time.
Hope this article was of some help for you. You can ask us your questions related to army clerk in the comment box, we will try to respond as soon as possible. All the best for your written exam!