Check UP Scholarship Status 2020-2021 Online
Education should be free, at least for those who do not have enough resources or money to study. This is why the government of Uttar Pradesh introduced the UP scholarship scheme for those students of UP who can not afford education.
In this article, we have tried to cover all the important details like Eligibility to apply for UP scholarship, important dates, how to check UP scholarship status for 2020-21 online and much more. Read the whole article and you will get all the details. But first, let's see how you can check your application status for the scholarship.
How To Check UP Scholarship Status 2020-2021
Click on the respective link that are given below to check your UP scholarship status.
स्कालरशिप चेक करने के लिए नीचे दिए गए लिंक पर क्लिक करें। अपना नाम, पासवर्ड, जनम तिथि और वेरिफिकेशन कोड डालकर लॉगिन करें।
Here are the steps to follow after you click on the relevant link:
You will be directed to the official website of UP scholarship. Click on "Status" tab present at the head of the website.
A new page will open, enter your registration number and roll number to proceed. Press the search button to get your scholarship status.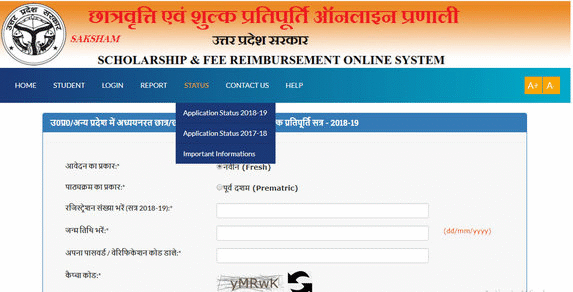 If everything goes right then you will be able to see the status of your fee reimbursement. You can also take the printout for future reference.
This is for those who knew about the scholarship program for Uttar Pradesh and had applied for it. With these simple steps you can check UP Scholarship status online. Now, for those who are completely new to this topic, this is where to start.
UP Scholarship Eligibility Criteria
Like explained in the beginning, scholarship is for those students who can not afford to pay for their education. Thankfully there are various government and private scheme for such students. But one has to follow a proper procedure to avail the scholarship.
Courses that you can apply for scholarship
Class 9th and 10th (Prematric)
Class 11th and 12th (Postmatric Intermediate)
Undergraduate (Postmatric Other than Intermediate)
Postgraduate
Certificate programs
Diploma courses
One can apply for scholarship in any of the above given courses and classes.
To make sure that the benefits are given to the deserving ones, UP government has certain eligibility criteria which are needed to be fulfilled by applicants. Following are the eligibility criteria for UP fee reimbursement scheme.
Eligibility For UP Prematric Scholarship (class 9th & 10th)
The applicant must be either in class 9th or in class 10th.
The applicant should be the resident of UP state with a domicile.
The income of applicant's family should not exceed Rs. 1 lakh per annum.
Eligibility For UP Postmetric Scholarship (class 11th & 12th)
The applicant should have passed 10th from a recognized board in UP.
He/she should be either in class 11th or class 12th.
Should be the resident of UP state with an original domicile.
The annual income of the applicant's family should not be more than 2 lakhs per year.
Eligibility For UP Postmetric Scholarship Other than 11th and 12th
To apply for this scholarship, the applicant should be pursing graduation or post graduation courses.
Applicant should be the resident of UP and should have a domicile.
Annual income of the family should not be greater than 2 lakhs per annum.
People from any category can apply. Eligibility and other criteria are same for all categories. Their is no application fees.
If an applicant complies with all the eligibility criteria then he/she can apply for the government scholarship scheme of UP. Now let's look at the important documents that you need to have if want to apply for fee reimbursement.
Documents Required For UP Scholarship
Even if you are fully eligible to get the scholarship but don't have correct documents, then you won't be able to apply. So, it's important to keep all the required documents ready while applying. Here is the list of document that you will need while filling UP scholarship form online.
 A valid ID and Address Proof like Adhara card, PAN card, DL, Voter ID etc. Basically you must have something that could prove your identification and that you are a resident of Uttar Pradesh.
Your passport size photo to attach with the form, keep a scanned copy to upload.
The ID proof as provided by the school or other institution, like school or college id card.
Report card/mark sheet of the qualifying exam.
Admission letter or latest fee receipt provided by the school or other institution.
Domicile
Bank Passbook of the applicant.
Annual Income Certificate which should be online generated.
To get important documents like caste and income certificate online, click here.
If you are missing any of the above documents, then you won't be able to apply online for UP scholarship. It's important that you have all the documents ready. Now let's look at the procedure to apply.
How To Apply For UP Scholarship Online Application Form
To make it convenient for people, the UP government have made the whole scholarship application process online. So, interested candidates can now easily apply for the fee reimbursement. The complete online application process can be divided in three major parts.
#1 – Fresh Student Registration
You can not fill the application form until you are registered to the official website of UP government scholarship program (www.scholarship.up.nic.in). So, if it's your first time application for fee reimbursement, then first register yourself. Following are the steps for fresh student registration.
Visit the above given link of the official website.
Look for the "STUDENT" option in the menu at the top.
Click on the "New Registration" option that will appear after you click or take your mouse on "STUDENT".
 In a new page you will see many links with scholarship names, click on the one that you want to apply for.
Again a new page will appear where you will need to fill your details. Provide all the details as per your documents.
After filling all details correctly click on the "Submit" button. A new page will appear where you will see the registration slip. Do take a printout of the slip or at least save a soft copy of it for future reference.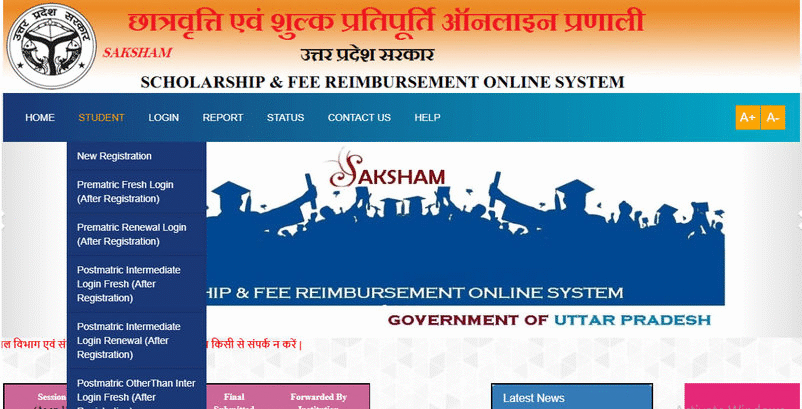 Once register, then you can login anytime and apply for the scholarship. Also whenever you want to check UP scholar ship status online, you can do so by signing in to your profile.
#2 – Submitting Scholarship Application Form
To complete the second phase of the application process, you will need to login to your profile and follow these instructions.
After signing in, you will be directed to a page where the important instruction regarding the application of scholarship will be mentioned. It's your responsibility to read all the instruction and make sure to follow them.
After reading all the instruction tick the agreement line given at the bottom of the page and click on "Proceed".
You will get to see the dashboard of your profile, there look for "Fill in application form" and click on it.
The application form will open where you will need to fill all the details as per your documents.
After filling all the details click on the "Submit" button.
The system will ask to upload documents like passport size photo, signature and others, therefore it's important to keep scanned copy of all documents.
After finally submitting the form, the filled form will appear on the screen. make sure to take a print out of it.
Please note that information once filled and submitted by an applicant will not change. So, be absolutely sure while filling the form that all the information is correct and as per documents.
#3 – Submitting Physical Copy
To complete the application process the applicant needs to submit the hard copy of the application filled online to his/her school/college or any other institution along with other required documents. This will complete the application process of UP scholarship.
The print out of the filled form will be uploaded after 2 to 3 days. If the system finds any information incorrect in the form then it will be displayed, applicant should take the print out only when all the information are corrected.
UP Scholarship Application Dates
Now that we know how to apply, it's time we know when to apply. Like any other entry system, their is a time period within which the applications are accepted for the scholarship program. Here are the important dates that one should keep in mind if willing to apply.
| Scholarship Name | Application period |
| --- | --- |
| Premetric | July – September |
| Postmetric | July – November |
| Postmetric (other than 11 & 12) | July – November |
All the important dates and details regarding up scholarship 2020-2021 will be updated here from time to time, therefore, students are advised to stay in touch with this page and with the official website.
Black Listed Institutions
Please note that there are some of institutions that are blacklisted by government for scholarship program i.e, if you are a student of one of these institutions or are trying to get fee reimbursement for any of these institutions then your applications will be canceled.
Following is the list of black listed institutions
| District | Institution |
| --- | --- |
| Meerut | Excellence College Of Professional Studies, Shastri Nagar |
| Hathras | Chaudhary Babulal Institute Of Technology & Management |
| Baghpat | Shri Krishana College Of Engineering & Tech. Singhwali Ahir |
Make sure that you are not applying for the scholarship in any of the above mentioned institutions.
UP Scholarship 2020-2021 Queries
Now that you know almost everything about the scholarship scheme of UP government, it's time we take a look at some of the frequently asked questions that we often get from applicants.
Question. I have lost my registration number and password. How to recover UP scholarship registration number and password?
Ans. Let's solve this problem step by step. To recover your registration number you will have to follow the new registration process again (process is given above in this page). Make sure to enter all the details same as you had filled previously. When you will submit the registration form with the same details then the system will automatically show your registration number for previous form at top of the page.
To recover the password all you have to do is login with your registration number and click on the "forgot password". Then follow the instruction, and you will be able to recover you password as well.
Question. My Form has been verified but still i haven't got the scholarship money. What should i do?
Ans. Their can be lot's of reason why you haven't received the scholarship money even when your form is verified. Scholarship is given on percentage basis, i.e people with more percentage will get scholarship earlier and more than those with lesser percentage.  Still if you want you can contact the officials and let them know your issue, if you are lucky enough then maybe they will listen to you and look into the matter. If you want to take it a step further then you can even file an RTI.
Question. I have received very less amount for the scholarship. Why is it so?
Ans. The department gets limited amount to distribute as scholarship, and it is not 100% sure that you will get the expected amount as fee reimbursement. You can contact the officials and ask them about your issue.
Question. My scholarship status is not showing.
Ans. Try to login to your profile with different network, browser and system. If the problem prevails then contact the officials.
Question. Status showing "*Application Form Verified By Institution But Not Forwarded". What does this mean?
Ans. It simply means that your Institute did not forward your application to the government. Contact your institute immediately and ask them to forward your application.
Question. My Institute is asking for processing fees. Is it legal?
Ans. No, institutions are not allowed to charge any processing fees. Though, some may ask to submit postal charges, but that amount should not be more than Rs. 200 to 500.
Final Words
Applicants who have got the scholarship previously are eligible to apply for scholarship again, there are no limits on how many times a student can apply for scholarship. For those who will apply for first time, be absolutely sure to provide correct details while applying.
We have tried to cover everything related to up scholarship, but if their is still something that was not covered in this article or if you have any query then feel free to write us in the comment box. Our team will be their to help you in the best possible way.
May you get what you desire, best of luck!