5 Tips On How To Write Perfect Answers In Board Exams
You may have really good grasp on the subject but what do you think is the medium through which you can tell this to the board examiner who is checking your answer sheet ? The best and the only medium is your writing skill. If you have one of the questions like how to write the perfect answer in board exams or how to write effective answers in board exams or instructions for writing CBSE or ICSE or ISC board exams then this is the article which can answer those questions.
See Also: Prepare For Board Exam In 1 Month To Get 90+
In this article you will learn crucial tips on how to write the perfect answer in board exams nonetheless the overwhelming pressure which tends to or makes the student forget what they have learned. These tips will help you organize your time, enhance your writing capability and will make you able to write the answers in a way to score your best marks.
Download CBSE Topper's Answer Sheet
5 Tips On How To Write The Perfect Answer In Board Exams
First, you must be half an hour early in the examination centre and make sure you have all your necessary belonging with you like blue and black pens, pencils for diagrams, eraser, sharpener, ruler, etc. Keep your mind calm and focused, which will help you in remembering things you had learned and will help you fetch information quickly without wasting precious writing time.
1. Prioritize Questions
The extra reading time of 15 minutes in the beginning plays an important role in attempting the whole question paper as in this time you can mark or pin out questions which you know perfectly so that you can attempt them first. Never make a single mind set that you have to attempt the questions in the same given order as you can chose any order which suits you best.
You can set priority in 3 levels by giving 3 star to high priority questions, 2 star to medium priority questions and 1 star to low priority questions. Questions with high priority are those which you can do quickly and will not take your unnecessary time to think then write medium priority questions and in the last attempt the questions with the lowest priority.
Prioritizing questions can be advantageous in many ways one of them is confidence, If you know any question perfectly then doing it in the beginning of exam can boost your confidence and consequently you may end up attempting even those questions, if any, you have not prepared for.
2. Precise Answer
Due to the nervousness of board exams students try to fill their answer sheet in a false idea that examiner will only give marks when your answers are lengthy but the reality is slightly different. Your answer should be precise, relevant and up to the question and without any unnecessary stuffed words because no teacher is expecting any long story in your answer sheet. Following 6 rules of writing will tell you how to write answers in board exams.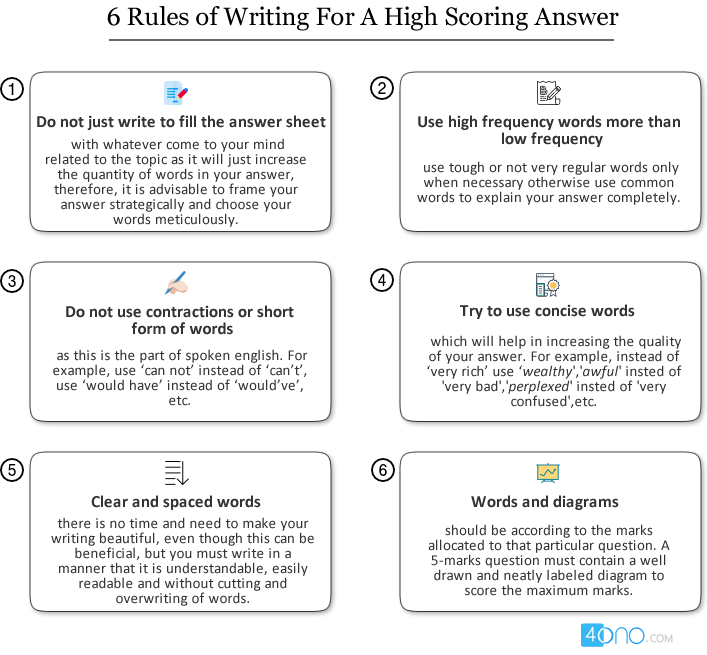 I. Do not just write to fill the answer sheet with whatever come to your mind related to the topic as it will just increase the quantity of words in your answer, therefore, it is advisable to frame your answer strategically and choose your words meticulously
II. Use high frequency words more than low frequency, use tough or not very regular words only when necessary otherwise use common words to explain your answer completely.
III. Do not use contractions or short form of words as this is the part of spoken english. For example, use 'can not' instead of 'can't', use 'would have' instead of 'would've', etc.
IV. Try to use concise words which will help in increasing the quality of your answer. For example, instead of 'very rich' use 'wealthy', 'awful' instead of 'very bad', 'perplexed' instead of 'very confused', etc.
V. Clear and spaced words, there is no time and need to make your writing beautiful, even though this can be beneficial, but you must write in a manner that it is understandable, easily readable and without cutting and overwriting of words.
VI. Words and diagrams should be according to the marks allocated to that particular question. A 5-marks question must contain a well drawn and neatly labeled diagram to score the maximum marks.
| Marks | Lines |
| --- | --- |
| 1 | 2-3 lines |
| 2 | 4-5 lines |
| 3 | 6-7 lines |
| 5 | 12-15 lines |
3. Do Not Turn Answer Sheet Into Drawing Book
Some students misinterpret the idea of well explained answer and try to fill every color in the answer sheet to make it beautiful instead your sheet should be neat and clean and well explained. If you write a quality answer then there is no need to use different colors and since decorating the answer like underlining, etc will take away your precious time of writing.
4. Must Attempt All The Questions
Sometimes the question paper puzzles us with unexpected and unseen questions but it does not mean that you will leave that question. You should attempt every question in the paper because sometimes examiner gives us marks for attempting, you never know, if he/she also knows that the questions was really tricky and still the student attempted. Remaining calm and focused will also help you in attempting all the question as you would feel confident which can help in remembering.
5. Revision Of Answer Sheet
Once you are done with all the questions then you must revise your answer sheet. You must re-check that whether you have attempted all the questions or there are anyone left, check for the silly mistakes like spelling, title of diagram, etc.
It is necessary to write good answer when you have worked hard because all the efforts would go in vain if you leave writing to chance that is why follow these steps to write perfect answers in your board exams.