Prepare For Board Exam In 1 Month 20 Days To Score 90+
If you are looking for the best last-minute tips for board exams which can help you study not only for longer hours but also effective in the short span of time so that you can prepare for board exam in 1 month or the remaining time and can help you get those perfect marks then you have come to a perfect place.
Even though these are the best tips which will help you to study studiously for your board exams but these techniques demand one's complete dedication then only one can get the best out of these tips. If you are serious enough to strictly follow the tips then I assure you that it will help you to get through the board examination with flying colors.
Once you know the tips and tricks on how to study smartly and the get the best out of every day,  you may get able to decide what or how to make an efficient timetable to follow according to your best and weak subjects but still I am are providing a timetable for 1 month and 20 days which you can follow as it is made by experienced teachers which I have provided later in this article.
See Also: How To Crack SSB Interview In First Attempt
Prepare For Board Exam In 1 Month 20 Days To Score 90+
All of us always wanted to score our best in the board exams but not all of us ready to make an effort to score 90+ in all subjects or above it because some students might say that" it is not possible for me", some might say "I am an average student and cannot achieve it", some might say "its not my cup of tea" but I want you tell only one thing that if you "shoot for the moon you might not land on it but you surely land on some stars" it means "if you prepare yourself and your preparation to score above 90% you might not achieve it but you surely score a decent marks which you will not regret later" but if you prepare for board exam only to get 70% marks then there is always a chance that you will score below it.
That is why I am providing you these methods and tips which will help you shoot for the moon. Hard work is good, probably the best way to score maximum marks or to score above 90% in the exams but analyzing the time left for the 12th board, smart work is the need of the hour.
Here are some tips which help you in your board exam preparation so that you can achieve your true potential.
1. Pomodoro Technique – useful in preparing board exams
If you like to study for longer hours without taking breaks because of the reason that might get distracted and continue to work for hours then you are not doing any good to your productivity because our brain cannot concentrate at anything continuously for more than 50 minutes and if you force it(brain) to do so then you must know that this is linked to lowest grades as after prolonged study sessions, reasoning and memory may be negatively affected for up to 4 whole days and that is why Pomodoro technique is useful in achieving these tasks.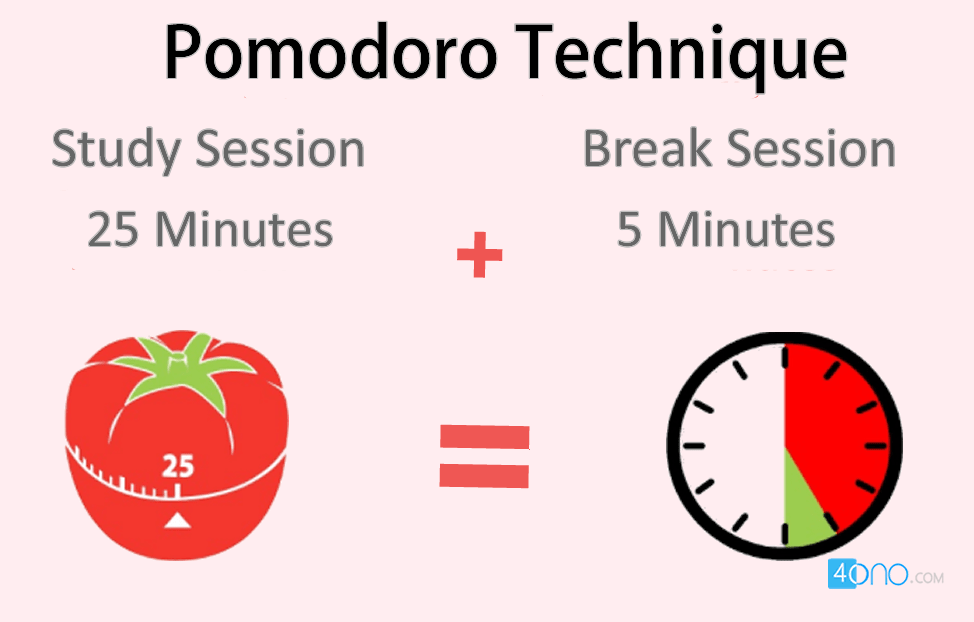 I will not tell the history or origin of the technique because that is not important right now as your exams are near but a little overview would not do any harm, its a time management technique designed to perform tasks which required long hours with minimum reduction in efficiency and it is the only reason it helps students preparing for their exams.
To apply this technique, first you have to pick a topic which you think will definitely take 2 or more hours and then set a timer for 25 minutes in your watch or smartphone and the only compulsion is that you have to be focused for these 25 minutes without exception, nothing should bother you in this time of span, your only concern should be your topic and after 25 minute is up take a 5 minute break using the same timer.
The 5-minute break session has only one compulsion that during the break time you can do anything but study, you can exercise or clean up your room or go up and down in the stairs but your actions should not be related to study.
Once the break time is up then again set the timer for 25 minutes and after that take a 5-minute break. Repeat this cycle 4 times and then take a long break of only 15 minutes and remember that there should not be any study related activity while break time and there should not be any distractions too in that 25 minutes of study time. You can also use the advanced version of the Pomodoro technique which is 50 minutes study time and 10 minutes break time.
2. Feynman technique
This technique helps in deepening your understanding of what you already know as after this you will not forget you derivations and formulas not because you have crammed all of it but because you have understood the concept in a way that will not let you forget it. The interesting thing about this technique is that it starts after you have completed, learned or understood a topic.
When you think your topic is complete, take a piece of paper and write about it as if you are teaching the concept to someone else and ideally write and speak at the same time, just as a teacher does it at the blackboard. This makes you realize which part you understand and where you still have gaps whenever you get stuck, go back to study and repeat that process until you have explained the whole topic from start to end.
When you are done repeat the process from the beginning but this time simplifies your language or use graphics or pictures to make a point if you explanation ends up confusing you probably have not understood it well enough so should start again. Thinking about an idea by explaining it makes this learning method very effective as once you can explain an idea or concept in a simple language then you have deeply understood it and will remember it for a long time.
Teachers use the same technique in the class that is why they are able to explain the concept very well sometimes even without a book. You can also practice this method with your friends by explaining what you have learned and subsequently, they will learn too.
3. Set a specific time for study
Setting a specific time in day or during the week just to study, trains your brain by creating a routine and over time studying actually become easier, as your brain gets trained to learn those moments, for example, if you are habitual to take bath in the morning and it takes only 5 to 7 minutes for you to complete that, then try taking bath in the afternoon some day then you will notice that it is taking more than 7 minutes because your brain is not trained to do that activity in that time of the day and you have to put extra effort in performing the same task. Similarly, if you set a specific time for studying then your brain will automatically get trained to learn faster in that specific span of time.
4. Goal oriented study sessions
This method is also proven to be one of the most effective among students as having a specific goal for each study session. Instead of aimlessly studying you must pick one aspect or concept you will focus on whether its organic chemistry or completing the differential equations exercise or learning magnetic effects of currents. You must have a goal either for every session or for a whole day.
Read also: CBSE Exam Paper Evaluation Process
5. Practice along with tests
This is the most important tip I or any other can give you that not only do practice but put your brain in the environment too because even if you make mistakes they help you identify gaps in your knowledge. You must have seen that every student who scores well in the exams have practiced and took maximum tests at home and not only from the textbooks but form different books also. Practice test has also been shown to increase confidence, thereby leading to better performance.
6. Practice sample and previous year papers (Research)
Hard work is as important as smart work. In this case, you have to do both first hard work by practicing sample papers and previous year papers and second smart work By doing research on the sample and previous year papers. Our team has done a lot of research in previous year papers and we have got some interesting facts such as specific chapters for longs questions, short questions, and very short questions, which chapters are most important, numerical chapters, etc. Here are some methods you can use for research in previous year papers:
Practice from previous 5 or 10-year papers.
Observe the paper pattern such as type of question (types of questions, section wise).
Research on each question of every paper of all subjects and relate it with chapters and you will find that which chapter is important for short questions, long questions, numerical and derivation etc.
Now you have the idea that how to prepare each chapter. Now you need to classify important topics, less important topics from each subject and start your preparation.
When you start practicing, treat yourself as you are in the exam hall giving board exam. This will improve your time of solving the paper.
CBSE provides sample question paper and marking scheme (solution) to class 10th and 12th student each year not just to practice but also to give an idea of how the board exam question paper will be.
Now it's your time to practice sample questions paper given by CBSE. The same method you will follow here in sample papers as mentioned above in previous year papers' research. CBSE sample papers for class 10 are very important as their part of preparation because it's their first time of the board exam. And Class 12th student know this fact very well that how important CBSE class 12th sample papers are for them.
For Sample papers and previous year papers of CBSE, ICSE, ISC or UP board, you can download by visiting the home page and select your board and class and there you will find them.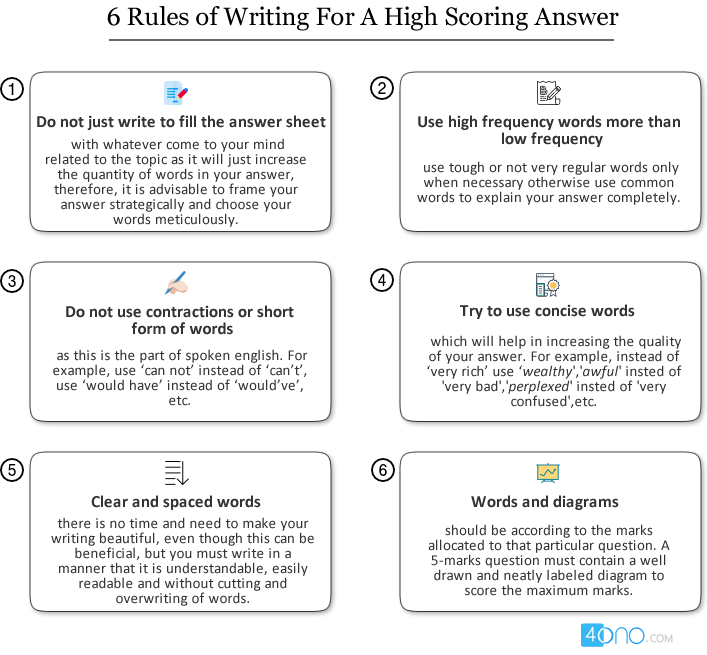 I. Do not just write to fill the answer sheet with whatever come to your mind related to the topic as it will just increase the quantity of words in your answer, therefore, it is advisable to frame your answer strategically and choose your words meticulously

II. Use high-frequency words more than low frequency, use tough or not very regular words only when necessary otherwise use common words to explain your answer completely.

III. Do not use contractions or short form of words as this is the part of spoken English. For example, use 'cannot' instead of 'can't', use 'would have' instead of 'would've', etc.

IV. Try to use concise words which will help in increasing the quality of your answer. For example, instead of 'very rich' use 'wealthy', 'awful' instead of 'very bad', 'perplexed' instead of 'very confused', etc.

V. Clear and spaced words, there is no time and need to make your writing beautiful, even though this can be beneficial, but you must write in a manner that it is understandable, easily readable and without cutting and overwriting of words. You must know how to write perfect answer in board exams in order to get full marks

VI. Words and diagrams should be according to the marks allocated to that particular question. A 5-marks question must contain a well drawn and neatly labeled diagram to score the maximum marks.
Every subject is equally important when it comes to examination or scoring marks there is no distinction among subjects but when it comes to preparation of individual subject or time given to particular subject for preparation then it can vary person to person because their strong and weak subjects can be different, every student work differently on different subjects still we are providing a 50 day schedule for the students who have these subjects – Physics, Chemistry, Maths, English, Computer Science and optional (Physical Education, etc).
1 Month 20 Days Time Table For 12th Board Exams
Days
Subjects
1-7
Physics
8-14
Chemistry
15-24
Maths
25-28
English
29-33
Computer Science

34-40

Revision days as per subjects

5 Days – Physics, Chemistry & Maths

Revision

1 Day – English
1 Day – Comp Science
41-50
Sample Or Previous Years Papers
1 Month Time Table For Class 10th Board Exams:
Days
Subjects
1-6
Mathematics
7-12
Science
13-16
English
17-20
Social Studies
21-23
Hindi
24-30
Revision with previous year papers (

Must

)
See Also: Download CBSE 10th Previous Year Question Papers – All Subjects
A student can change the schedule according to their grasp or interest of subjects as this is a standard time table which can help any student even if he has or has not any favourite subject. You must dedicate your last 10 days of your preparation to sample or previous year papers as it will help you to understand the type of questions which had already come in the examination and you will get habitual to the language of paper.
These techniques will not only help in the board examination but also in every field or every exam you will encounter in your life. These 5 methods or tips will help you learn faster and completely, irrespective of your chosen field.