CBSE Class 10th Sample Papers All Subjects PDF 2020 Practice Papers
Download and practice latest 2020 CBSE Sample papers for class 10 with solution (Maths, Science, Social Science, English, Hindi) for board exam. Well researched sample question papers of class 10 based on new cbse board exam question paper pattern. Hello! dear students, one more precious year of your school life is passing away, and this time, it is a crucial one, because you will be called a high school passed after this.
Someone once told me that a person is considered officially as literate, once he passes his/her high school because you get a valid certificate from the government. And maybe this is one of the reasons why people tell you to be serious about your board exams.
CBSE 10th std Board Exams Are Not So Difficult
I don't know why students are so scared of board exams, even now when CBSE has made it so simple for them. Now you get the whole syllabus in two parts. Plus you get to choose which way you want to give your exams i.e home board or away board. Before going for preparation you should know CBSE evaluation process and how the board exam copies are checked.
And still, I often find board students panicking. Just relax, there is no need to pump your heart rates. I believe that exams are never easy for those who are habitual to one-night fight, they generally keep things for the last day, and if you have this tendency too, then I can understand your situation.
Latest CBSE Class 10 Guess Papers For 2020 Board Exam

But it's never too late you can still make up for it. For those of you who are well prepared for the board exams, you can download the new CBSE 10 sample papers that are given below and make your preparation rock solid, and those of you who are yet to start, they can too download the class 10th new model paper for all subjects and begin from here. Previous year papers for class 10 are also important and very helpful for board exam preparation. CBSE provides sample question paper and marking scheme each year before the board exam on the official site 'cbseacademic' to give students the idea of the new paper pattern. So, that they can prepare accordingly.
CBSE Class 10th Sample Papers All Subjects PDF 2020
Teachers always recommend to practice sample papers and for class 10 and 12 students as practice makes students perfect for their board exam.
Now it's easier than, you can either read online or download the sample papers in the PDF format. You can also bookmark this page in your browser so that you can come anytime to practice or you can download all the sample papers at once. But I recommend you to bookmark because we update time to time and provide you with deep researched sample papers.
Practice the following well-researched latest CBSE class 10 sample papers based on the latest CBSE board exam pattern.
CBSE Class 10 Maths Overall Important Question papers
Sample Papers are the reflection of final board exam papers specially if they are well researched, given by expert teachers. Here are the Class 10 Maths sample papers. If you able to solve these sample papers then nobody can stop you from getting 90% in your board exam.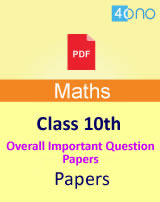 Latest CBSE Class 10 Maths Overall Important Question Papers For Board Exam 2019
No. of files : 5 PDFs
Price:
₹ 125
Year :
2018-2019
2000+ Downloads
Maths
CBSE Class 10 Science Sample Papers
After Maths, Science is second important subject. Practice these latest science sample question papers given by our expert teachers according to the latest CBSE pattern. Practice these sample papers and see how much revision you need now.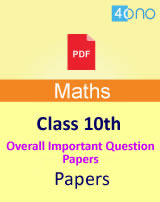 Latest CBSE Class 10 Science Overall Important Question Papers For Board Exam 2019
No. of files : 5 PDFs
Price:
₹ 125
Year :
2018-2019
15000+ Downloads
Science
CBSE Class 10 Hindi Sample Papers
Hindi is a scoring subject but student ignores this subject because they think Hindi is easy. Yes, Hindi is an easy subject but Hindi is an important subject where a student can score 100 out of 100 marks. So don't underestimate the power of this subject. followings are the bunch of class 10 sample papers for Hindi subject. Start your practice with these sample papers.
CBSE Class 10 English Sample Papers
English is an interesting and scoring subject because there are letters, short notes, articles, unseen passage, word errors, literature questions, etc. And you have to be perfect with all these things and this will happen only if you practice. So Hurry up and start your exam preparation with these class 10 English sample papers.
CBSE Class 10 Social Science Sample Papers
There is a rumor about social science in class 10. And the rumor is that you have to write a long answer and fill as many pages you can in the exam. But rumors are always rumoring and this rumor is wrong. You should know the facts then only you can write on this subject. Like Hindi, Social Science is also a scoring subject where you can get 100 out of 100 marks. Read your textbook and know the facts because Social Science is a facts-based subject. Give your time to solve these class 10 Social Science sample papers. Practicing these sample papers will sharpen your board exam preparation.
Now if you have downloaded the sample Question papers successfully then I suggest you, start practicing them. I am sure you are aware of the benefits of practicing the sample paper and other practice papers.
CBSE Class 10 Sample Papers And Marking Scheme(2018-2019)
Every year CBSE publishes sample papers for class 10 and class 12. To make sure that student will follow the pattern of the latest sample papers for their board exam preparation. You can download the latest Sample questions Papers and marking scheme (solution) for all subjects given below and practice these. And You should follow the paper pattern also. Here are the Latest official CBSE sample papers for class 10 including all major subjects.
Download these latest CBSE sample papers and marking scheme and practice them as there is no way to success other than practice. If you are having difficulties downloading the pdf files, then please let us know by commenting on the comment box below. Our team will respond as soon as possible.
CBSE Class 10 Sample Papers (2017-2018)
I would recommend you to just practice these sample papers and do not follow the paper pattern (marking scheme) as they are of 2017-2018. Here are the CBSE sample practice papers for class 10 of 2017-2018 including all the major subjects.
Solving all these sample papers will surely help you to score high marks in your exams and practicing sample papers is the best way for exam preparation. If there is any doubt on the above sample papers or you can't any subject then please comment your query on the comment section below.
Usefulness of CBSE Sample Papers for class 10
Sample papers are very useful because, first of all, they give you the idea about the pattern and format of the exam, secondly, you will be able to figure out the important questions chapter wise and, of course, the important topics. Basically, they totally prepare you for the exam.
The more you practice sample question papers the more comfortable you will be on the day of the exam, and trust me if you have practiced enough sample papers then you will get extra time. Not that the time limit will increase for you (that's impossible) but if you are in the habit of solving the question paper, then your speed will automatically increase and you will finish your paper well before the time limit.
Since this is the first for class 10th student to appear for the board exam and they don't have any idea and experience of board exam that is why sample papers play an important role. Practicing sample papers is not just enough.
Research along with practice is needed. When you practice sample papers with a proper method like you are giving a real exam, then you can improve your time of solving questions paper, you will get the strategy for solving papers.
When you do research on sample papers for all subjects, you will see important and interesting facts like, from which chapter one mark, two marks, three marks, or five marks question comes, which chapter is important for numerical and derivate. so do Hard work as well as smart work with CBSE sample papers for class 10.
How can I score 90+ percent in less time?
It's very hard to score 90+ percent if you are running out of time and are still not prepared. But It is possible to score good marks in your final board exam. And if you do have a time of 2 or 3 months, then there are still chances that you can complete this "mission impossible". Just take care of a few things that are mentioned below.
First of all, you need to get organized and clear your head. Remove all the distractions that are preventing you from studies, you know what I'm talking about. I know you will feel that repulsion from inside, but you have to do it. Maybe these tips will help.
Environment and Good Habits
You need to make an environment that will help you to stay focused, find a separate and a peaceful place where no one can disturb you. And stay away from that smartphone of yours, at least, when you are studying, or it will be the cause of your failure.
Choose your study time very carefully, try to make a habit of studying at the dawn time of 4 to 7 Am or late nights. Basically, when you know no one will be around to disturb you.
Improve your sleeping and eating habits, I know this sound very strange but trust me eating and sleeping habits play a very important role. If you control them you will notice that your sluggishness will fall significantly.
If possible, give some time for meditation. Just give 10 to 20 minutes daily and your focusing power will improve magically. And these are not just air bubbles, these techniques do work.
Practical Time Schedule
Next thing you should do is make a proper time table. Make a practical time table and follow it religiously with complete dedication. And by practical I mean one that you think you can follow, don't make it too hard or you will eventually give up. Also, include 'sample paper practice' in your time table.
If you give only 1 or 2 hr to study then make a timetable in which you will give 3 or 3 and a half hr. Once you get comfortable with that timetable then add more hours to it.
Don't forget to take a quick revision of everything you learned at the end of the day. Give at least 25 minutes for revision every day.
Clear Concepts and NCERT
Keep your concept clear, do not proceed until you are sure that the topic is clear to you. It will be time-consuming but as you know quality always wins over quantity. If you are having any doubts or problems regarding any topic then you should immediately clear them. Take help of your teachers, and if you are too shy to go to your teachers then ask someone else with better knowledge, but do not let any doubts clouding your mind.
When you solve class 10 sample papers then you find some topics or concepts in which you need more work and practice. Note down those topics and revise them.
For Maths and Science which are important subjects, you can practice important questions to get proficiency.
Complete the NCERT books first before you go to other books of any subject because most of the questions in the exam come from the NCERT book. Don't try to be a hero, if you are running out of time then practice only NCERT.
And finally, keep revising the previous chapters from time to time. Keep Sunday as a revision day, because if you are not in touch with the chapters you studied earlier, then you will find it difficult to recall them later.