CBSE 12th Commerce Sample Papers PDF – All Subjects
Accountancy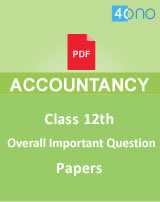 Pack of 3 PDF Files (CBSE 12th Accounts)
Well Researched 3 Overall Important Question Papers
Price:
₹ 105
Year : 2018-2019
1000+ Downloads
12th Accounts
You can also download the class 12th accountancy previous years question papers.
Business Studies
Pdf file password: 4ono.com
If you want to download CBSE class 12th Business Studies last 10 years question papers, then just follow the link given.
Economics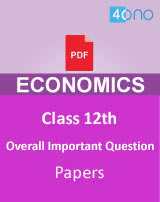 Pack of 3 PDF Files (CBSE 12th Economics)
Well Researched 3 Solved Overall Important Question Papers
Price:
₹ 105
Year : 2018-2019
1000+ Downloads
12th Economics
Mathematics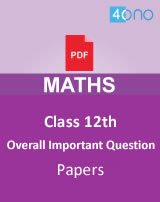 CBSE Overall Important Question papers Class 12 Maths 2019 with Solution
Price:
₹ 155
No. of Files: 5 PDF Files
Year : 2019
1000+ Downloads


12th Maths
You May also like to download class 12th Maths last 5 to 10 years question papers.
Hindi
Pdf file password: 4ono.com
To practice more you can also download class 12th Hindi previous years question papers.
English
Pdf file password: 4ono.com
For more practice material on English like 12th English previous years question papers, just follow the link given.
Computer Science
Pdf file password: 4ono.com
I know the sample papers are plenty to practice, but if you want more, then you can follow the given link to download class 12th computer science previous years question papers.
Class 12th is an important stage of a student's life, not just because this is the last year of his/her school life, but after this he/she will have to face the real world. Some will directly go for the job while some will decide to go for higher education.
No matter what you choose to do next, a good percentage on your mark sheet will always support your confidence and your future. So you see, it is very important for you to do well in your 12th board exams.
I hope your preparation for the exam is going well, by practicing the sample papers that are given in this article, you can give an edge to your exam preparation.
CBSE 12th Commerce Sample Papers – Why Important?
Sample papers play an important role in the life of those meticulous students who want to score high marks in their 12th Board exams.
I have seen that students generally don't take this recommendation seriously. They think of it just as a formality. But, believe me! start practicing and you will feel the petty difference, especially the Commerce students really need to know the fact that practicing sample papers can help them a lot to clear their basic concepts and moreover, it will teach you a way to manage the time.
Sample papers will let you know the pattern of Board exam and the questions which are most probable to come.
Business studies
Business Studies! most of the commerce students find this subject a little bit easier than the other subjects, but still, there are some evergreen doubts which generally every commerce student face during the exam time.
There are so many terms in this subject which are a lot to learn, and you have to tackle them at any cost to attain good marks in this subject.
Well! There are so many ways, and one such way is to practice more and more sample papers of Business studies.
Tackling Business Studies
Make more and more notes while attending the lectures in school, it will help you a lot. These notes will stay in your mind for a long time. Keep discussing the important points with your friends, this will improve your memory and concepts as well.
Business studies require a deep study, and your keen interest is also very essential to score good marks in this subject.
Accountancy
Accountancy is one among the most difficult subject of Commerce stream according to most of the students. Well! it is not that tough if you have a strong will power to acquire good marks.
As we know that the syllabus of class 12th accountancy is divided into three parts, and if you want to score in 90's, then treat every part equally. Don't even leave a single topic if you want to get to that score of 90.
Strategy For Accounts 
Let me tell you a fact that some terms are evergreen, they are all time favorite terms for examiners and hence always come in the exams, like fixed assets, reserves, provisions, accumulated profits and losses, capital employed, working capital, current assets, liquid assets, current liabilities, fictitious assets, depreciation, capital and revenue receipts, etc.
Learn time management from the very beginning, try managing the time. Practice the sample papers by setting a time limit. Try to solve all the questions and then check them, point out your weak point and put every possible effort to convert them into your strongest ones.
Economics
Economics is such a life saver subject in which a brilliant student who is clear with his/her basic concepts can easily score 100 out of 100. Believe me, I have seen so many students who always had Economics in their favorite subjects list and they scored full marks in board exams.
What could be more satisfying! I think every student wants this happy moment at least once in his lifetime. Just try to clear your basic concepts of Economics first, then move further, Practice a set of sample paper daily, at least, till the exams, and you too can bring that moment to your life.
How to prepare Economics
Majorly, the subject is divided into two parts. Despite having three books, you can say that the subject has mainly two parts, theoretical and Mathematical. Both are equally important, and you need to study both of them equally.
On one hand, you have to practice the questions, and on the other, you have to go through the learning process. Whatever you do, put all your efforts into it to score high. Things will be clearer if you make notes of every particular chapter.
Dear students! Hopefully, the help provided in this article will prove to be useful for you. Just keep Practicing sample papers, and I am sure that you will pass the exam with flying colors.
Courses after 12th  Android Apps For 12th Students  CBSE 12th Blueprint  How To Prepare For Exams