12 Courses And Jobs after 12th pass Science, Commerce, Arts
Check for the Latest Indian Railways recruitment for RPF(Railway Protection Force) Constable & Sub Inspector(Male & Female)
Check for Upcoming Recruitments in the Indian Railways RRB (2.5+ Lakhs vacancies) for different posts: Group 'D', ALP, Group 'C', ASM, NTPC, etc…
If you are done with your class 12th and still doubtful about further studies. Then, take it easy.
It's a normal thing which almost every student face at some point in his/her life. Generally, the student feels kind of messed up in his/her mind while deciding for his/her future, and how can we forget the silly relatives and neighbors who keep on asking the same questions repeatedly to make the situation worse.
12th pass private jobs 2018 at good salary packages are not hard to find but you have to discover your interest and listen to your heart. So here in this article, I have listed some of the courses and jobs which will guide you to choose the best one according to your interest.
Courses And Jobs after 12th pass
Yes, the courses and jobs for the students who are so much worried about their future and want to get rid of the silly questions asked by their neighbors.
No matter which stream you opted in class 12th, how many marks you got. It's your ability to dream big which will decide your future.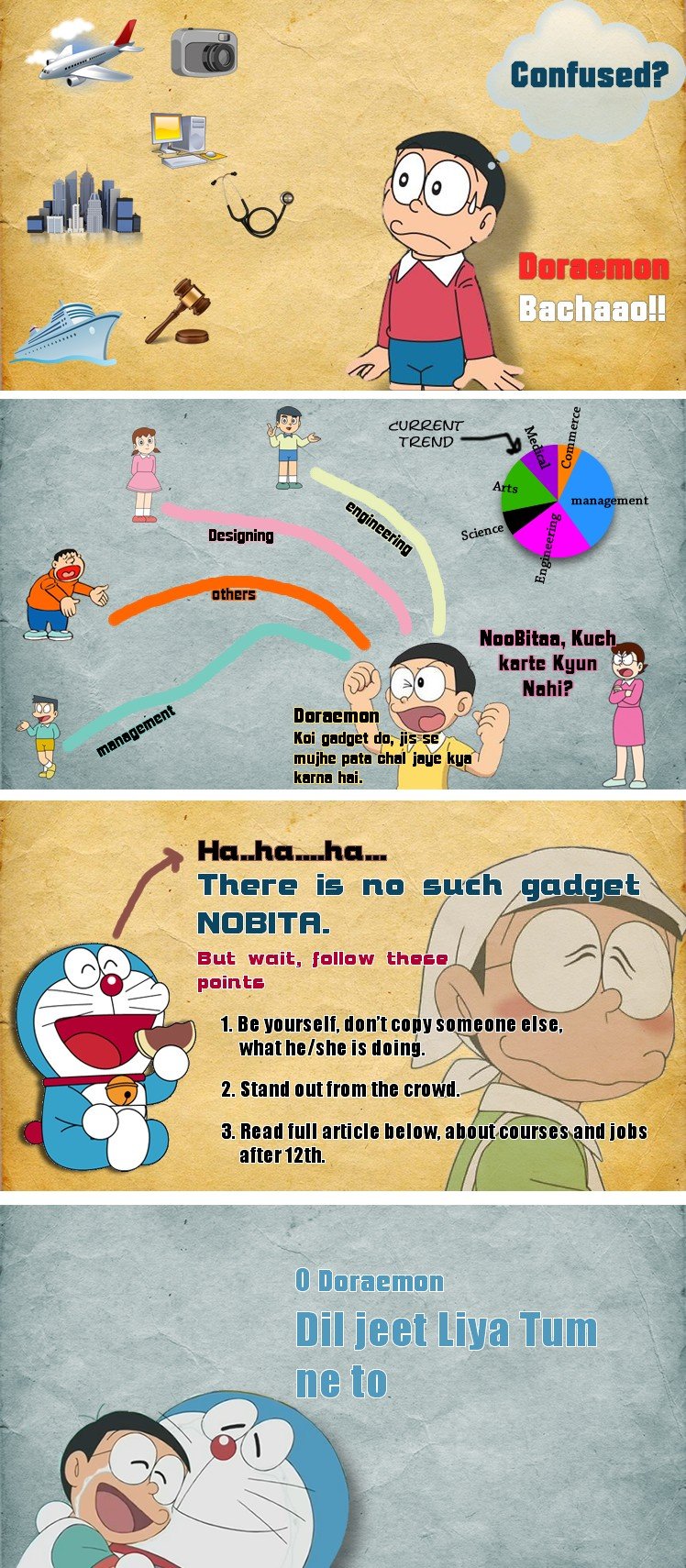 Hope you have loved my creativity on above infographics, can I get a share or like for that? just joking, let's come to the point.
Courses after 12th pass
Yes, it's time to analyze, "Where you are and where you want to be." 
# Courses for Science stream students
1. B.Tech
Yes, the engineering degree is one of the best options to single out after class 12th. There are so many streams which one can opt. It is up to your interest of course. There are many great Universities that provide a B.Tech Degree but there are strong Reasons to join IIT Colleges.
Trades in B.Tech
Following are the different trades or branches from which you can choose Which trade in B.Tech is best for you:-
Civil Engineering
Mechanical Engineering
Electronics Engineering
Electronics & Communication Engineering
Electrical Engineering
Computer Science
Information Systems
Instrumentation Engineering
Electronics and Instrumentation Engineering
Duration for all the above trades is 4 years.
Top three colleges of B.Tech in India:-
Indian Institute of Technology, Kanpur (IIT Kanpur)
Indian Institute of Technology, Kharagpur (IIT Kharagpur)
Indian Institute of Technology, New Delhi (IITD)
You will need to crack the JEE mains (joint entrance exam) to get admission in private colleges, and JEE advanced if you want to get admission in government colleges. If you wish to crack JEE in first attempt, then you have to be consistent and patient to see your name on the merit list.
Mind it! The course is only for the students of Science stream. All you need is to clear the engineering entrance exam conducted every year. But make sure you choose this course only and only if you have an interest in science.
2. Medical Course/Pharmacy
For the students from a Biology background, the course in Medical sciences is a dream come true. Make it real! Take admission in an affiliated medical college for the great medical jobs in future. Nowadays, most of the colleges provide the full facility of job placement to their students.
See Also: Complete Details of NEET 2018
Following are the medical courses you can apply for with their time duration:-
| Course Name | Full Form | Duration |
| --- | --- | --- |
| M.B.B.S. | Bachelor of Medicine and Bachelor of Surgery | 5.5 years |
| B.D.S. | Bachelor of Dental Surgery | 4 years |
| B.H.M.S. | Bachelor of Homeopathic Medicine & Surgery | 5.5 years |
| B.A.M.S. | Bachelor of Ayurvedic Medicine and Surgery | 5.5 years |
| B.Pharm | Bachelor of Pharmacy | 4 years |
| B.Sc | Nursing | 4 years |
| B.P.T | Physiotherapy | 4.5 years |
| B.O.T | Occupational Therapy | 3 years |
| B.U.M.S | Unani Medicine | 5.5 years |
| D.Pharm | Ayurvedic, Siddha Medicine | 2 years |
| BMLT | Bachelor of Medical Lab Technicians | 3 year |
| DMLT | Diploma of Medical Lab Technicians | 1 year |
3. BCA
The Bachelor course in Computer Application. I must suggest that if you are a student from the computer background and having a keen interest in Computer, then use every muscle to get into this course because this course will groom your skills in computers.
The time duration for this course is 3 years, and the career scope for BCA is very good as these days every business is being digitalized which means that there will be many opportunities for good jobs.
However! The student from any background can choose this course, but as per my suggestion, BCA is most appropriate for the students of science stream.
3. B.Sc. (IT)
Bachelor's of Science in Information Technology is another course that you can consider if you wish to pursue your career in computer field.
It is very similar to BCA, even the subjects are almost same. And like BCA any student from any field can apply for this course, and the time duration for this course is also 3 years.
See Also: Complete Details of JEE Advanced and JEE Mains
# Courses for Commerce stream students
1. BBA
Bachelor of Business Administration which will be effectual for you if you want to make your career in business. The time duration for this course is 3 years.
You will be developing your decision-making skills in business along with communication and practical managerial skills. This certainly means that you will be knowing in detail about the functional aspects of a company or organization.
Basically, if you are planning to go for MBA, then BBA will be the perfect match to support MBA later.
2. B.Com
Bachelor of Commerce (B.Com) is also known as BCA. This course is also for those students who wish to get in the field of business.
Same as BBA, those who want to go for MBA for the post graduation degree then B.Com can be very helpful for them with MBA.
Again the time duration for this course is also 3 years.
3. BMS
The course for the Bachelor Degree of Management studies, this course will facilitate you to get the wonderful skills in management studies.
The time duration for BMS is 3 years. Prestigious  posts in the company like HR Managers, Manager etc. needs qualification and skills that BMS offers.
4. Chartered accountancy
This course is especially for the lucky students from the Commerce background.
To optimize your deftness in business and finance just after class 12th, this course is the most appropriate.
Wait ! Let me tell you that the course is a little labored and to get admission in the course, you have to register for the Common Proficiency Test with the Board of Studies at the Institute of Chartered Accountants of India.
Here is how to become chartered accountant step by step:-
The first step is CPT (Common Proficiency Test) in which you will have to register yourself to Institute of Chartered Accountants of India (ICAI).
After 60 days of registration to ICAI, you will need to appear for the CPT exam.
No, once you pass the CPT exam (and 12th too), then register for the Integrated Professional Competence Course (IPCC).
After 9 Months of registration to IPCC, you will have to appear for IPCC group I Exam. The group I Exam contain 7 papers.
Next, you will need to pass the group II Exam which contains 3 papers.
Now you will need to register as the article assistant. You can do that only if you have passed both group exam or, at least, all exams of group I.
Once you pass both groups then you can register for CA final course and crack the final exam.
And there you are, a chartered accountant!
# Courses for Arts stream students
1. Mass Communication
If you are looking for a career that would associate you with media, then Mass communication is the course you should look for.
It covers all from tv reporter to a scriptwriter in the film industry. Most of the students go for mass communication to get in the field of new media.
The time duration of mass communication is also 3 years.
2. Fashion Designing
If you are among those creative students who always got appreciated for their creative skill by their school teachers, then this course is best to choose for future. It is very well said, "choose a career you love, and you will never have to worry a day in Confucius."
For this course too, the time duration will be 3 years.
3. Event Management
Let's choose the career of fun, excitement and glory. Yes, the lifetime job surrounded with new innovations, creative thinking and so much of blast. Just imagine! 24*7 party mood! But, before this, you will have to brush up yourself with the management skills
4. LLB
The Bachelor Degree in Legislative laws. This is one among the most appropriate course for the students of Arts background. Take admission in some good college and you will get a professional degree in law after 3 years which is highly favorable from the future point of view.
Yes, there are so many options for every student irrespective of your stream or your marks or your higher qualification.
Just get hold of your dreams and aspire to achieve something great.
# Courses regardless of streams
1. Hotel Management
This course is suitable for anyone who really want to be in the hotel business. All you need are the management skill and of course, your own personal interest in the food industry.
These days hotel management is becoming one of the favorite options for youth, and the duration of this course is 3 years.
2. Graphic Designing Course
The course for the meticulous students who can think out of the box. It is like being a part of explosive technology.
Before taking admission in this course, note one thing that you have to be on one's' toes with the hi-tech world all through your career.
I think, there is no need to remind you that don't rush for choosing the course. Take time to think and to analyze pros and cons of each one of them.
Even a single drop of water make a ripple in the sea. Likewise, a single decision our life till the end.
Jobs After 12th Pass
Someone has rightly said, "Don't prefer a job with great vacation time. Pick a career that doesn't need escaping from…!"
# Jobs For Science Stream Students
1. Jobs in Indian Army
Indian army is one of the best and the most secure career choice these days. It offers a great deal of facilities, jobs security, good salary and most of all good reputation in society. One can apply for NDA Selection process right after 12th.
2. Jobs in Indian Forces
Either it is, Air Force, Indian army or Indian Navy, there are so many opportunities for the 12th pass students from the science background. Every year, the department releases so many recruitment for the deserving candidates.
However! For the 12th passed students, there are vacancies generally for small posts but one can join by keeping continue his/her studies.
3. Jobs in Forest Department
If you love to stay in touch with the environment, if you love to feel the scenic beauty then the job in this department is appropriate for you.
Generally, there is recruitment for the post of Forest Guards for the 12th pass students. Let me clear that the salary package in this department is outstanding.
4. Jobs in Science organizations
Either it is ONGC, ordnance factory, coal mines, Medical Science colleges or hospital, there are a number of job opportunities for the students who are done with class 12th.
All these jobs are included in a government sector and salary offered is also satisfying. There is a plus point in the jobs that here, you will get to learn more and more and nothing could be better other than staying in touch with your own favorite subjects.
# Jobs For Commerce Stream Students
1. Tally Operator Job
This job requires no extra qualification. All you need is a commerce background and a good typing speed. This sector is flourishing day by day and there are hundred of vacancies released every month. Salary package offered depends upon the company working for. But generally, it is satisfying to the students who are doing it as a part-time job.
2. Data entry operator
If you have a good knowledge of accounting up to the 12th level, then you can easily apply for this job. The work is only limited to take written information from forms, applications or company files and you have to enter the information into computer system databases or applications. Seems to be easy but requires a lot of potential as the salary depends on the amount of work you do in a day.
3. Internship under Chartered accountant
If your goal is to become the chartered accountant in future. Then, start preparing it from today.
Yes, there are so many chartered accountants who hire accountants under them and also offer a good salary package.
There you get paid and at the same time, learn the skills of accountancy.
# Jobs For Arts Stream Students
1. Freelance Writer
If you have good writing skills or if you are among those who considered themselves as a creative writer, then you can start writing as a freelancer under some private newspaper or magazine.
At the same time, you can also apply as a content writer in different websites present on the web. Well ! Some national newspaper hires deserving writers on a temporary basis. Just give it a try!
2. Indian Railway Jobs
This department does not only recruit the students from the science background. Arts students can too have great career opportunities.
Assistant, ticket collector, Lower division clerk etc. Yes, They have much more to offer the students from Arts background.
3. Police Force
The police department also releases the recruitment for the students who are done with their 10+2.
There are so many vacancies released each year in different police department like traffic police, state police, local police, etc.
4. Merchant Navy
Yes, the private institution of Navy which offer an awesome salary package to its employees. However ! The job is little tough and you have to stay on the ship for 6 or more months continuously. But, for the people who love to travel, this is a dream come true.
# Jobs regardless of Streams
1. Teaching Job
Teaching job is one of the most favorable career choices for most. All you need is a little compassion towards your work.
If you consider yourself a good mentor, if you are among those who always prove to be a helping hand in your friends group or if you love to make people understand the things, then teaching is the perfect carrier for you.
Full dedication is required in this job. First make a try in some primary schools or you can also take tuition. But, yes, continue your studies too.
To apply for government school or for better institutions, you will need to pursue B.Ed (bachelors of education). For government schools, you will later need to crack CTET (common teacher eligibility test).
2. Bank Clerical Jobs
Few days ago, there was a news that there will be no vacancies in the bank for 12th pass students.
But it turned out to be just a rumor. State Bank of India recently released the recruitment in its department. Likewise, there are a number of posts in Banking sector too for the students who have done their 10+2.
There is a plus point that you don't need your education in some special stream. Student of every stream is allowed to apply for the job.
3. Postal Jobs
Yes, the job in post offices, generally for multi-tasking staff. I must say, one of the most relaxing and reliable jobs.
One has to clear the exam conducted by the department every year. Breathe easy! The exam is not that tough.
All it requires is your basic knowledge in every subject up to class 10th.
Just bear in mind! Your job is going to fill the most part of your life. So ! If you want to be contented with your work then opt for something great.
Yes ! Any job, which seems to be great to you.
And, the only way to do great work is to love the job you do!
Go easy ! Don't let your marks and result decide your future. Choose the course or job of your own choice. Pick up ears to everybody but make your own decision. Because there is nobody who could think better for you than yourself. With the ending of my write-up, the words of Einstein is colliding with the thoughts in my mind.
"Everybody is a genius. But, if you judge a fish by its ability to climb a tree, it will live its whole life believing that it is stupid."