Study plan to be a topper in NEET
Aspiring to become a medical practitioner is a dream for many students in India. But to achieve this goal one has to make sure that they have appeared for the National Eligibility  Entrance Test to get admitted in the top government and private colleges in the undergraduate level. One has to make sure that they are well prepared for the high school level so that they get clear the examinations just after passing the 12th-grade examinations.
But just appearing for the examinations and getting a rank is not enough one has to thrive to achieve the topper's dream to get into some top and esteemed colleges in the country.
Study plan to be a topper in NEET
The perfect time to start with NEET preparation: Being a doctor is a dream for many, since the time they realize that they will need an aim in life most of the students start preparing for the dream from a very young age. But the best age to start for such a preparation is when one completes their 10th boards.
From the start of their journey in 11th one decides on the stream and if it's Science and they still wish to be a doctor, then there are high chances that they will end up preparing for the coveted NEET.
It is always advisable by the experts to start preparing for the coveted examination from the 11th standard itself. With just two years in hand and an essential examination of 12th board, one needs to be very decisive and focused on this goal.
Even the institutions that offer NEET coaching start providing the same from 11th class too. With a plethora of subjects lined up for the science streams that are a must for studying medicine such as Physics, Chemistry, English, and Biology it makes it easier for the candidate to prepare for the NEET in a better way.
Students get to study these subjects with utter commitment and focus and there are fewer chances of them getting carried away with other things. Due to the importance of this time, it is easier for the candidates to concentrate and achieve the goal they have dreamt of for such a long time.
See Also: How to prepare for NEET with 12th Board Exams
A possible timetable to prepare for NEET with school studies
There is no possible time-table that one can offer as there are various ways of studying and each student have a varied way of perceiving and understanding things. It is highly suggested that one should try to devise their own timetable as nobody makes it better for them than they themselves can do.
Still here is a timetable that might come handy while preparing for two of the most important academic exams of your life at one time.
Find out the similarities: Owing to the fact that the syllabus of the NEET is in parity with the class 12th grade one should take a note of the similar topics that are there in the NEET as well as in the boards. This way you won't need to read the same thing twice and can find out time to invest in the different ones.
A timetable for segregating activities: If you wish to prepare well or do good in both the NEET examinations as well class 12th then it is recommended that you start segregating time for different activities. You might have a separate time for studying as well other activities such as sports and extra-curricular. If you love sports, music or any other extra-curricular activities then do dedicate some time for that and simultaneously carry on with your studies.
Dedicate each day to a particular subject: One thing that is essential to be kept in mind is that you have a lot to cover and on a specified time. So, start dedicating each day to a particular subject. Say, for example, dedicate Monday to Physics, Tuesday to Biology, Wednesday to Chemistry, and Thursday to English and for the remaining days revise what you have read.
Not every medium or timetable is a possible one and can be followed strictly by the individual. So, it's best to prepare a plan for yourself and vouch for it.
Intro of previous Years NEET Toppers
NEET has been in place for the past 4-5 years now. Before this, all India entrance was decided through AIPMT (All India Pre Medical Test) to start their journey in the field of medicine. But from 2013 the whole idea of the entrance examination has changed.
Now, a student has to appear for NEET to compete among lakhs of students to get selected in some of the best Government as well as Private colleges in India. But since 2013 there have been success stories of candidates who have topped this reputed examination.
Here is an insight to the toppers in the previous NEET examination.
The very first year when the NEET examination had started that is 2013 three students emerged to be the successful ones. Ayush Goel A lad from Kolkata, who secured the first position in the all India ranking, followed by Arnav Agarwal a Chandigarh boy with 2nd rank and Umang Arora from Delhi with 3rd.
2014 saw Tejaswin Jha scoring the 1st rank with a total of 682 out of 700 in All India Rank. With a total of 695 out of Vipul Garg from Haryana secured AIR 1 and Khushi Tiwari secured 2nd Rank in 2015 examination giving an exemplary example of success and achievement.
Gujarat's Het Shah scored 685 out of 700 to bag the AIR-1 and make the 2016 examination a remarkable one. Finally, Navdeep Singh from Chandigarh and Archit Gupta were The AIR 1 and 2, respectively in the list of Toppers in the NEET. Before 2013 there have been toppers who have graced the All India Pre-Medical test with their sheer commitment and focus to achieve what they wanted.
Read: Complete NEET Preparation at home without coaching or Self Study
Study plan, strategy, and timetable of previous year toppers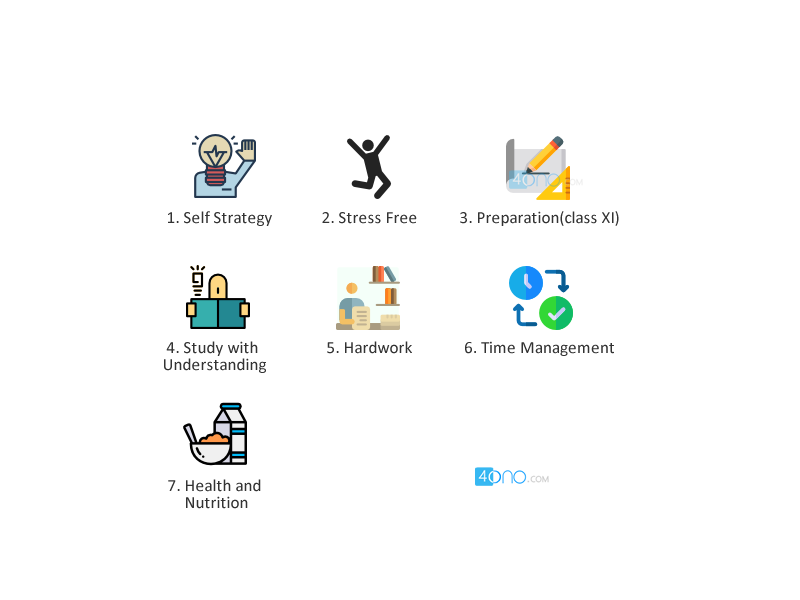 A common thing that previous year toppers, as well as students who have done well in the NEET, were that they were not into taking much pressure. A person's hard work and focus make achieving the goal easier than any other essentiality. But culminating in the words of all the previous toppers these were the understanding that could be derived.
The most effective method is self-strategizing: Often this is a common understanding among the candidates who appear for the NEET examination is that they want to follow a topper's time-table blindly. It becomes difficult to make them believe that all those study plans and strategies were devised based on their need and necessities. If toppers are to be listened to then it is highly advised by them that each and every student have their own weaknesses and positivity. It is better to work on the weaknesses and enhance the positivity. Self-strategizing is the best way to understand what method and what way will be beneficial to the individual.
Try to be stress-free: Majority of the toppers are of the view that things tend to go out of the hands are when the student starts taking the pressure that they are not supposed to. It is understandable that it is a big examination and studying is a very important part of that but taking too much of stress might end up ruining everything. It is advisable to avoid altercations from every front and from all associations that provide pressure and stress to the person. If one tries and stays to be stress-free, then the capacity to focus will be increased out of bounds.
Start preparing from class 11th: Most of the students who have topped the NEET examinations tend to support the fact that one should start preparing for such examinations since they start with their class 11th Starting from this time helps in providing better focus and understanding of the subjects. One gets a total of two year time to give to this preparation. You can easily get distracted from your path if you are any late from starting with the preparations. One who starts in an early phase starts developing an understanding of the papers in a more in-depth manner.
Don't just study for the sake of it: Studying with keeping in mind that you are here to attain knowledge and not cram. Studying without understanding the basic depth of the subject tends to destroy the foundation. It is advised by the previous students to gather knowledge while studying or you will end up memorizing things and that is not a good practice for topping or rather cracking such examinations. Giving to gather an understanding is the deep knowledge that least student tends to have who think of preparing for the NEET.
There is no substitute for hard work: Not just toppers any person who knows the value of hard work will tell you the same thing. Achieving something exemplary needs dedication and hard work that is unmatchable in nature. You will be competing with students with an equal aim of studying medicine from the top-notch medical institutions in India and only your hard work can speak for yourself. Setting an example and turning out to be an example needs plain and simple hard work. Any kind of shortcuts to the road of such achievements might lead to a disaster that can be dangerous for a career.
Learn time management: Time management is the key of achieving the dream of being a topper in the NEET examination. Each and every individual has a number of things lined up and finding out time for each of them is essential and equally important. Every other work and entertainment is important and should be maintained but not at the cost of another. There are things that provide oxygen to survive and curtailing the same just because you want to focus on NEET will spell disaster such as stress and as mentioned stress is a down-point in NEET preparation. So, make a proper time-table and decide how much time you want to invest in what activity. Your segregation of time for each work will be your first step towards making sure that your mind is de-cluttered with stress and tension.
Talk with the previous students: You will come across a number of students who appeared for the NEET examinations at one time or the other and have cleared it with flying colors. The previous toppers advise to have a chat with them and get some insights about what they did that made their preparation different from yours. The different individual has a different take on how things are to be done. There is no need of following them blindly. Just grabbing an idea or two is the best way to mechanize study patterns and preparation for the NEET.
Eat healthy and stay healthy: Staying healthy is the best way to ensure that you can give your 100% to the NEET preparation. All the previous toppers made it a point that they keep their body and mind healthy as it will help them in providing fuel to their goal. Proper intake of food and exercise is the best way to tackle health and stability. You need to keep a proper check on the food that makes you ill or lethargic. Take a stroll every time you are done with a meal as it helps in digestion and a proper digestion leads to overall health. Meditation and exercise are another way of ensuring a proper well-being of the body and mind. Remember your healthy self can help in providing the best output.
No doubt NEET is one of the most important examinations for candidates who want to study medicine in India but it is essential to understand what an individual is capable of achieving. Confidence in oneself, honesty on their mindset, focus on the goal, dedication towards the aim and the undaunted spirit of never-to-back-down is one of the best methods of achieving anything in life.
A spirited person has the power to achieve greatness with a handful. Good Luck!