Download CBSE 10th Maths Sample Papers, Latest Exam Pattern, Syllabus
According to a study, the subject that students are most scared of is 'Maths'. Ask any of your friends which is the toughest subject according to them? I'm sure you will get the answer Maths! mostly.
Maths is a tough subject, I totally agree with it, but it does not mean that we give up and leave it. I think maths is rather more interesting subject than any other.
Have you ever noticed that once you start solving problems in maths, then you just can't stop yourself from doing more, although you will eventually give up when stuck in some problem for a bit long time. But, one should never quit trying.
Anyway, at the top of this article, there is a direct link to download the CBSE 10th maths sample papers and latest model papers. If you are looking for other things like Hindi sample papers and English previous years papers then just click on the given links.
Download CBSE 10th Maths Sample Papers 2021 PDF
To download the latest sample papers for maths you need to scroll to the top of the post, as the direct link is given at the top. You will need a pdf reader installed on your system or device.
warning: users are not allowed to use the pdf files given in this article on their website or blog, if needed then the reference of this page can be given.
If you are facing any problem downloading the pdf files, then please do inform us by commenting on the comment box below.
Also, if you are looking for more sample papers for other subjects then you can visit our home page. hope you have downloaded all the model papers.
Maths Latest Paper Pattern And Exam Format
I would advise all the students to make sure that you practice all the sample papers that you have downloaded from here, as it would be a complete waste of your time and internet data if you don't.
There are lots of benefits of practicing the guess papers, like you get to know which are the important questions chapter wise, also, you will know which are the most important formulas that you should memorize.
Following is the latest paper pattern and format of board exam.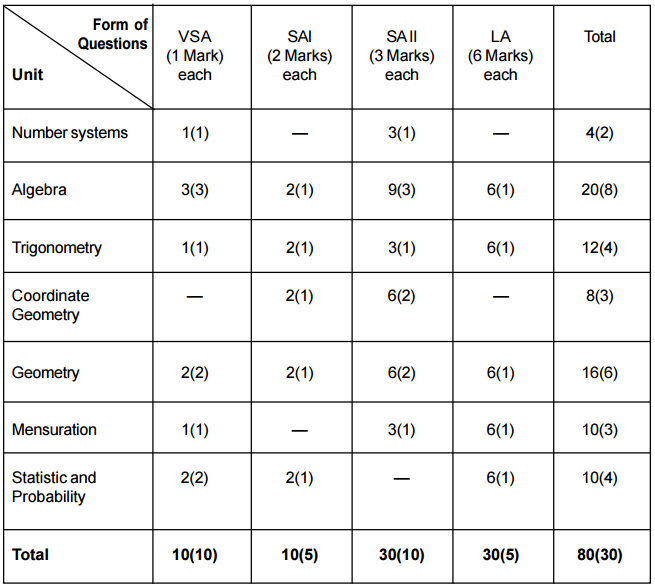 So this is how the pattern for maths board exam is going to be for this year:
There will be total 30 questions worth 80 marks in the maths board exam. The questions will be further divided into 4 parts.
The first part is VSA or very short answer type, total 10 questions will be asked in this part and each will carry 1 mark.
Short answer type part -1 or SA-I is the second part of the question paper, 5 questions each of 2 marks will be asked in this part.
Short answer type part -2 or SA-II will carry 10 questions each of 3 marks.
Finally, the last part will hold 5 questions and each question will be of 6 marks.
Important Tips When You Attend The Question Paper
Very Short Answers (VSA):-
If possible, then try to find the answers to the VSA question in the 15 minutes that you will get to read the question paper. It will save a lot of time for you, but first read out the whole paper very carefully.
Short Answer – I (SA-I)
The SA-I will be a bit harder than VSA, but still try to answer them as quick as you can, but make sure you do not miss any calculation.
Short Answer – II (SA-II)
The second part of SA is for those who have worked hard for the exams, as the question asked in this part will be tricky and will need a great deal of concentration to solve. So make sure your mind is not distracted while solving the SA-II questions.
Long Answer (LA)
Just because they are Long answer type question (LA) or they are 6 marks question does not mean you can't attempt them. In fact, you should not leave any question in this part unattempted, even when you don't know the answers. The calculations in these questions can be complicated and long, but if you have prepared well then you will see that these questions are simpler than SA questions.
Read Your Answer Sheet
Finally, read your answer sheet at least once, and if you have time then try to attempt the question that you don't know, at least, try to write something related to it, after all, something is better than nothing.
But attempt those questions only after you are finished doing the questions you know.
How to tackle Maths Difficult chapters and problems?
You have to be in regular practice if you want to embrace success in Maths. Only daily practice will clear your confusions.
Separate Notebook
Make a separate notebook in which you should write all the important formulas and questions (you can just write the name of the book and page number and question number only). Also, if you want, you can write important points related to chapters.
NCERT First
Most of the questions in the paper are asked from NCERT book, therefore, students should first complete the NCERT book and then jump to other books. Don't even leave the examples and the miscellaneous exercises.
Try to calculate things on your own, do not take help of calculator in any case. This will help you increase your calculating speed and will also sharpen your mind.
Neat And Clean Work
Be in the habit of keeping your work neat and clean. I have seen students informally practicing questions in a messy way, and later ending up getting the final answer wrong. You can lose track of all your calculation if you are writing steps untidily, just one wrong step can mislead the whole solution in a wrong way. Therefore, write all the steps very neatly and cleanly.
The Online Gaming
One of the best and interesting way to improve your mathematical skills is to play games like sudoku, just 20 minutes each day, and you will see a significant improvement. The internet is filled with such game, so go online to play them.
Clear your Doubts
Finally in case of any doubts or confusion, immediately ask your teacher or someone with greater experience to guide you, because if you do not clear your doubts now, then they will bother you in the exam. Also, the concept and logics that you are studying in class X are the bases for all the further studies, therefore, it is very important to keep your basic clear, especially in chapters like trigonometry.
Hope I was able to assist you some help for your board exam. All the best.