Soldier Technical Eligibility And Selection Process
In earlier times, wars were fought with simple weapons that were easy to use and didn't need any special skills to maintain. There was no need for any special branch such as technical. But the introduction of modern weaponry raised the need for people with knowledge and skills in the army who could be recruited in the technical branch to take care of those weapons and equipment. Nowadays, people from all around the country apply for the soldier technical trade. But, many candidates who apply for this post don't know what actually is the work of a soldier technical.
As all of us are well aware the army has hi-tech machines and equipment, and to operate them they need people with good skills and technical knowledge who can handle and maintain the smooth function of such equipment. So, every year number of people are recruited for the technical department.
Of all the trades, technical is considered the toughest. According to research, only 3 out of 10 people apply for this trade. It's not just the hardship of this trade that stops people from applying, but various other factors like educational qualification, physical eligibility, etc play a vital role too.
In this article, all the details that one needs to know before applying for soldier technical are covered.
Check if you are eligible to apply or not, via our Indian army eligibility checker app.
Army Technical Eligibility And Qualification
Army religiously follows the rules, therefore, if you do not satisfy any of the below-mentioned eligibility criteria of technical trade, then you will not be able to apply. So, read all the points carefully and then check your eligibility before you apply online.
And if there is anything that you don't understand, or if you want to ask something, then you can write your queries in the comment box. Our team will try to come up with the best possible solution.
Educational qualification required for soldier technical
The applicant must be at least 12th pass (10+2) with Physics Chemistry, Maths and English subjects from a recognized education board (CBSE, ISC, NIOS, any state board, private board, etc.)
The applicant should have scored a minimum of 50% marks in total and 40% marks in each of the subjects in class 12th.
If you are applying for soldier Technical (Technical Arms, Artillery, Army Air Defense), then a three years diploma in engineering (Mechanical /Electrical/ Automobiles/ Computer Science Mechanical Engg and Electronic & Instrumentation Engg) from a recognized polytechnic institute can replace the above qualifications i.e there will be no need of 10+2 qualification. But, the percentage of criteria will remain the same.
Age limit for technical
We get a lot of queries regarding the age limit for soldier technical, it is not very difficult to understand the age criteria of the army. To apply for technical trade, a candidate must be between 17½ years to 23 years. This implies that the minimum age to apply for this trade is 17½ years and the maximum age is 23 years.
Now, if you are calculating your age, then you should calculate from your birth date (as per your documents) till the date of Bharti, and not the date when you filled the application form.
E.g if the Bharti is on the 30th of September, and you filled the online application form on the 10th of September, then you will have to calculate your age from your birth date to the 30th of September (day of Bharti).
Height, weight, and chest required for technical
Determining physical standards is the most confusing task for anyone, the reason being the different standards for different areas and regions. The following table will make it easy for you to understand the physical criteria applied in different states of the country.
| States | Height (in cm) | Weight (in Kg) | Chest (in cm) |
| --- | --- | --- | --- |
| Jammu & Kashmir, Himachal Pradesh, Punjab Hills, Uttarakhand | 163 | 48 | 77 |
| Sikkim, Nagaland, Arunachal Pradesh, Manipur, Tripura, Mizoram, Meghalaya, Assam, and Hill Region of West Bengal (Gangtok, Darjeeling, and Kalimpong Districts) | 157 | 48 | 77 |
| Punjab, Haryana, Chandigarh, Delhi, Rajasthan, and Western Uttar Pradesh (Meerut and Agra Division) | 170 | 50 | 77 |
| Eastern Uttar Pradesh, Bihar, West Bengal, Jharkhand, and Orissa | 169 | 50 | 77 |
| Madhya Pradesh, Chhattisgarh, Gujarat, Maharashtra, Dadar, Nagar Haveli, Daman, and Diu | 167 | 50 | 77 |
| Andhra Pradesh, Karnataka, Tamil Nadu, Kerala, Goa, and Puducherry | 165 | 50 | 77 |
These are the physical standards that are compulsory, but applicants should know that the height standards may be raised on recruitment day. Thousands of candidates apply for even a single vacancy, so to select the best ones, the standards for height are raised from normal.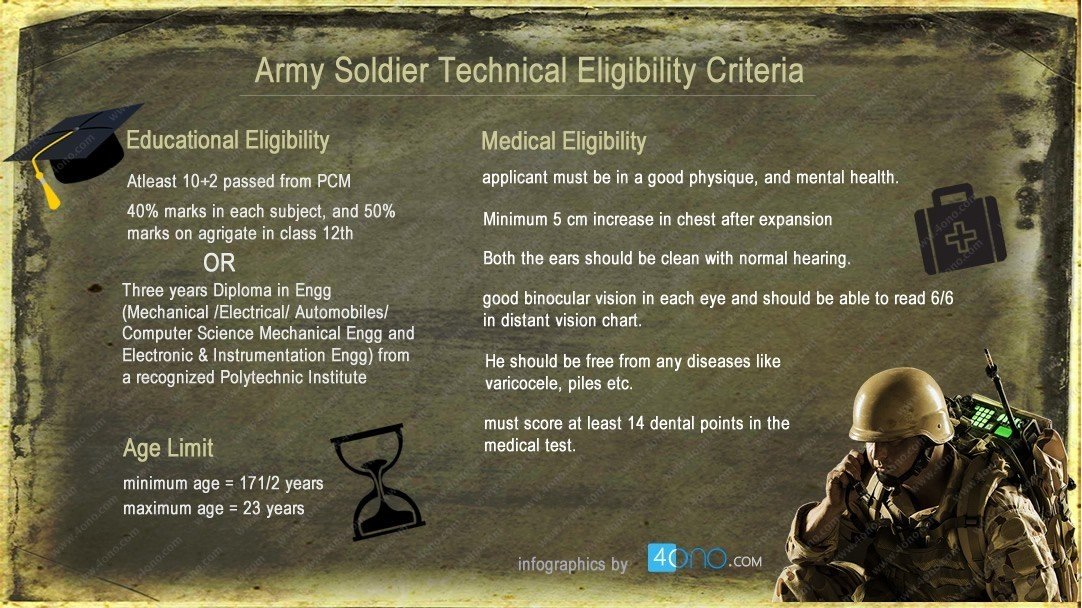 As you may know, people having special certificates like relation and sports certificate get concession in physical standards while recruitment. The following table is to shows the concession for those having a special certificate.
| Certificate | Height (in cm) | Weight (in Kg) | Chest (in cm) |
| --- | --- | --- | --- |
| Relation certificate | 2 | 2 | 1 |
| Sports certificate | 2 | 5 | 3 |
| applicants from poor areas | — | 2 | — |
Please note that you will need to show the original certificate or document to avail the benefits given above.
Medical qualification/eligibility
In order to apply for technical, a candidate must fulfill the following medical condition:-
The applicant must have a good physique and should be in good mental health.
The chest of the candidate should be well developed with a minimum of 5 cm increase after expansion.
Both the ears should be clean with normal hearing.
The candidate must have good binocular vision in each eye and should be able to read 6/6 in a distant vision chart.
The candidate must score at least 14 dental points in the medical test.
He should be free from any diseases like varicocele, piles, etc.
Other Eligibility required
I hope you are not a girl reading this article because only male candidates can apply for the post of a soldier in the Indian army. Also, the applicant male should be unmarried. And of course, he should be an Indian citizen.
Other than Indian citizen, the following people can also apply for the Indian army:-
Candidates from Nepal and Bhutan, Tibetan refugees living in India before 01-01-1962, Sri Lanka, and East African countries of Kenya, Uganda, Pakistan, Burma, and United Republic of Tanzania, Zambia, Zaire, and Ethiopia, and Vietnam.
Candidates belonging to other countries should have a legal nationality certificate issued by the Indian Government.
So these are the eligibility criteria necessary to satisfy for technical. If you still have confusion about your eligibility, then you can check it on the official website of the Indian army. Now that you know all the eligibility criteria of technical trade, let's have a look at the selection procedure of soldier technical.
Soldier Technical Selection Procedure From Beginning
The selection process of soldier technical is almost the same as other trades. Following is the detailed information of the complete selection process, from the very beginning to the end.
Please note that candidates will have to carry the indemnity bond with them, else they will not be allowed to participate in the rally.
An indemnity bond is an assurance by you to the army that, if anything happens to you during the rally, it will not be the responsibility of the army, and you will not ask for any compensation.
# Document Preparation
The moment you decide that you want to join the army, the selection process starts right from that moment. The army is a government Organization, hence not matter how fit or eligible you are, if you don't have the needed documents, then there is no way you will get recruited.
Therefore, preparing all the necessary documents should be the first priority. Under given is the list of important documents that are compulsory for Bharti:-
Class 10th passing certificate and mark sheet. Class 12th mark sheet.
Residence Certificate with photograph issued by the authorized signatory of the State Government / Tehsildar / SDM.
Caste Certificate with a photograph.
Religion Certificate issued by the authorized signatory of the State Government / Tehsildar / SDM.
Character certificate issued by the school/college principal, headmaster.
Character certificate with photograph issued by village sarpanch, municipal corporation, or police. It should not be less than 6 months old.
Aadhar card and 20 recent passport size colored photos.
Note that a participant should carry the original and attested 1 photocopy of each document mention above. And if he has some special certificate like relation, sports, NCC, O level certificate, then bring them too.
If for some reason the candidate is not able to bring the original educational document like mark sheet, then he will have to produce a printed copy of that document which should be attested by the principal or headmaster of that school or college.
So, these are the compulsory documents that you will need on the day of Bharti. Prepare them well before 1 or 2 months of the Bharti to be on the safe side.
# Online Registration
Once all your documents are ready, then the next step will be to register yourself online for the Bharti. As you may know, the army has introduced the process of the online application, and those who will not register online will not be allowed to participate in the Bharti or rally.
See also: Army online application process.
To register yourself, you will need to visit of the official website which is www.joinindianarmy.nic.in. To know more please read our article "army online application". Before you initiate the registration process, make sure that you do it with a good speed internet connection, because a slow internet connection can interrupt your registration process, hence resulting in an incomplete registration.
Trust me, we get numerous queries each day from our readers asking for help because their registration was not complete due to the slow internet.
Fill the online form very carefully, as it is very hard to change any detail later.
# Admit Card
After successfully registering online, the candidates will have to wait for the admit card in which all the details about Bharti will be given like place, time, date, etc. All the candidates will be required to have their admit card because without it they will not be allowed to participate in the rally.
All the candidates can get their admit cards by logging in the official website of army. Therefore, it is very important to remember the user id and user password at the time of registration.
Though, participants can also get their admit card on the bharti ground (facility provided by army), but it is advised that they download the admit card at least 2 days before the rally.
# PFT (Physical fitness test) Main Bharti Day
Though, selection in army is a complete process of PFT (physical fitness test) + medical test + CEE (common entrance examination) but PFT is considered as the main bharti day. The reason is simple, it is the 1st day when the competition is on its height. As the selection process moves on, the competition decreases.
Following events will take place on the day of bharti :-
Document verification :- No one can participate in the rally if he do not have the required and legal documents. They check the documents of each candidate very carefully, so no one can pass without the proper documents. So, make sure that you carry all the required documents with you, else, you will not be allowed to participate.
Height Measurement :- Before moving on to the race, the candidates are checked for height. So, if you enter the wrong height while filling the online form, then this is where you will be kicked out. So, if you are not eligible height wise, then it would be useless to participate in bharti.
Race :- This can be referred as the main event as most of the candidates are eliminated from the competition in this round. Race is where the real physical test begins in bharti, and it is organised to test the endurance of the candidates.
Candidates are divided in groups, and there is no fixed pattern that how many people will be there in one group. Most candidates try to reach the bharti place as soon as possible so that they could get the benefit of standing in front row of the group. So, try to be in the front rows of a group.
As per the normal standards, you will need to run 1600 meters or 1.6 Km in minimum 6.20 minutes to qualify for next round. Again, based on your performance, you will placed in groups (group 1 and group 2). Try to get in group 1 as this will increase your chances of getting in merit list later.
Following are the scenarios of race :-
If complete the race within 5 mins 40 secs – 60 Marks (Group I)
If complete the race from 5 mins 41 secs to 6 mins to 20 secs – 48 Marks (Group II)
If complete the race above 6 mins 20 secs – Fail
Please note that from 1 April 2017, the rules of 1.6 km racing will be changed.
Note that the standards timing can be increased on the day of bharti due to the competition, therefore candidates should be prepared for the worst.
Pull ups on beam (under grip) :- Right after the race, there comes a pull ups round. This round will test the strength of a candidate, and they are not like normal pulls ups, you will need to come up and go down on their instructions which will automatically makes it hard.
As per standards, a candidate will need to do at least 6 pull ups in order to be qualified for next round. The more pull ups you do, the better it will be. The maximum limit will be 10.
Chest measurement :- After pull ups, your chest will be measured. Firstly, a candidate should satisfy the above given standards for chest, if he fails to do so, then he will be disqualified. At least 5 cm of increase should be there in chest after expansion, else, the candidate will be disqualified.   
Zig-zag balance :- The balancing round is done to test the agility of a candidate. you will be asked to walk or run slowly on a zig-zag stand or rope. You will have to do it without falling to qualify this round.
9 feet ditch :- In this round, the candidate will have to cross a 9 feet ditch jumping through it. This round is done to test the courage of a candidate. Again, the candidates will need to cross the ditch without falling in it. And this will be the final round of Physical fitness test.
# Medical Test
After physical test comes the medical test. In most of the rallies both PFT and medical test are conducted on the same day, but sometimes these two events can be held on two separate days. To clear medical test, it is very important for a candidate to fulfill all the medical condition (mentioned above).
The candidates will go under several medical tests to see if they are medically fit or not. After racing, medical test is the point where most of the candidates are disqualified.
Make sure to keep your ears clean. Candidates with filthy ears are medically referred, which means that they will have to come again after some days to give the medical test of course with clean ears. So, if you do not want to get in this trouble, get your ears cleaned by a professional.
# Written Exam
CEE (common entrance examination ) is the last hurdle in the process of soldier technical selection, clear this with good marks, and you will surely get recruited. The written exam of technical is considered as the toughest of all the trades.
The written exam of soldier technical comprises of 4 subjects namely :- general knowledge, physics, chemistry and maths. Total 50 questions will be asked which will be of total 100 marks. Each question will be 2 marks and candidates will need to score at least 60 marks do be declared as pass in the written exam.
The questions of physics,chemistry and maths will mostly be class 12th based (of CBSE board). To get your name in merit list, you will have to get maximum marks in written, else, all the hard work done till now will be lost.
# Merit List
In trades like GD and tradesman the merit list is made after adding the marks obtained by a candidate in PFT + CEE. But for technical, the merit list is directly made on the basis of written exam only. Though, the performance of a candidate in PFT also matters, but it's written exam that matters the most.
The CEE result and merit list are two different things, people often get confused in these two. Merit list is made after the written result of written exam.
# Complete the training period
Once your name appears in the merit list, then you can consider yourself selected. But, before you become a full fledged Indian army technical soldier, you will have to go under the very tough training period of 9 months. The starting 6 months will be regular training like other trades which will include challenging physical and mental tasks and exercises. After 6 months of training you will get 1 month off.
After 1 month break, the remaining 3 months training will be regarding technical trade, this will include studying and practical.
Candidates will be given stipend for the 9 month training. Once the training is complete, then the candidate will be considered as the full fledged soldier and will be given salary each month, and he can enjoy the facility provided by Indian army.
So, this is the whole selection procedure of soldier technical. Hope this article cleared your doubts about the eligibility of soldier technical and the selection process involved. But, if you still have anything to ask regarding technical trade, then leave a comment. We will try to respond with the best possible answer
All the best for your future!