Indian army Soldier Technical Sample And Previous Year Papers
Are you interested in Indian Army Technical recruitment? If yes, this guide will be of help to you.  Technical trade has gained a lot of popularity in recent years. Each year, there is an increase in the number of applicants participating in the rally or Bharti organized in different parts of the country. With the increase in participants, there is an increase in the competition for the job.
The level of technical written exam is higher than other trades, which makes it even harder to crack. Without regular efforts and hard work, it's almost impossible to get through this exam (unless you have a genius mind).  If you know the syllabus and paper pattern of soldier technical, then you will know that all the questions are based on the CBSE syllabus.
Not that the questions will be totally alien to those from other broads, but the candidates who have studied from the CBSE board will be on the advantageous side here. But, it does not mean that this paper will be easy for them, it will take lots of effort and practice to score good marks in this exam.
The best way to prepare for the exam is to practice model papers, sample papers, and previous year papers. The link to download all these practice papers is given at top of this article.
If you want to become a Soldier in the Indian Army, you must take part in the Indian Army's Soldier recruitment process. Indian Army conducts Rally and Soldier recruitment drives to fill up the vacancies.
The Indian Army has a large collection of vehicles, weapons, and types of equipment, which need to be regularly operated and maintained. For this task, the Army needs recruits who have stable technical knowledge.
You can continue reading if you are looking for tips and techniques to practice the sample papers and preparing for the exam.
See also: Best books for Indian army.
Indian army Soldier Technical Sample And Previous Year Papers
There are always two kinds of approaches to doing any task. One is the ordinary way in which you will do things just like others, this will give ordinary results. And then there is a smart and creative approach that gives extraordinary results. So, it's up to you, which approach you want to opt for while solving the technical trade model papers that you will download from here.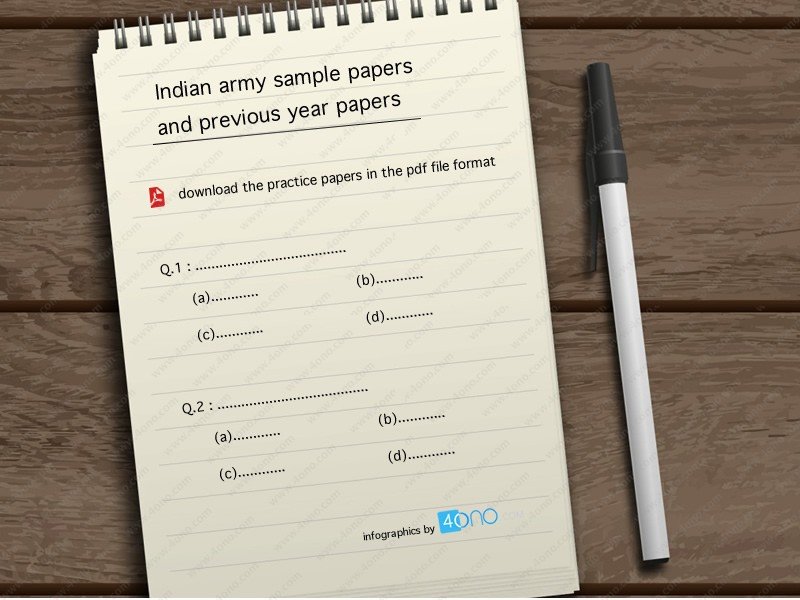 If you are going with the ordinary approach, then it's fine! you can close this tab right now and begin with your practice. Or you can continue reading for smart tips and techniques.
This is an important question
When do you know if a question is important or not? Simple, when you see it repeating in most of the practice papers and previous year papers. When you practice mark or note those questions which are common. Also, note the different ways in which the question is asked.
Once you know the important questions, then don't try to memorize them, instead, try to gather more information about them. Write down all the facts and points of that question in a separate notebook.
e.g if there is a question:- Who wrote the book 'A passage to Indian '? then instead of just writing or memorizing the answer 'E.M Foster' you should try to collect all the information related to it. Like, in which year was the book written, what was the significance of those books, about the author, etc.
Once you do this, then you will have a list of important questions and all the possible facts about them. Now no matter how twisted the question is, you will be able to deal with it smoothly.
Note:- though the above-given example is from GK, this trick is most effective for other subjects like physics and Chemistry.
Tackle maths the smart way
Maths is the main scary subject for most, but if practice with dedication and the right approach, it can become one of your favorite subjects. The great thing about maths is that there is no boring theory (mostly), all we have to do is calculate and use some logic based on formulas.
The problem with most of the people is that they don't get the basic clear about the formulas. If you understand formulas in maths right, then there will be no stopping you. For this to happen, follow this tip :
Before starting a topic, write down all the formulas related to it in a separate notebook, and try to understand them. Once you understand the formulas, then get them printed on your mind in such a way that when you see a question, you should know which formula to apply.
Follow this technique for every topic, and maths will become fun for you.
Indian Army Technical 10 unsolved sample papers
Price: ₹ 49
Language: Hindi & English
Format: PDF (soft copy)
Delivery: On your email
Description: Get 10 unsolved sample papers with answer key (without explanation). You will receive 10 pdf files on the email id that you will register while purchasing.
10 अनसॉल्वड सैंपल पेपर्स खरीदने पर, आपको ईमेल आईडी पर 10 पीडीएफ फाइलें मिलेंगी, जिसमे से 10 अनसॉल्व्ड(प्रश्न उनके विकल्प और पेपर के अंत में answer key)


Unsolved
Mock Tests
In case if you don't know what mock tests are, they are practice tests or we can say fake tests. All the conditions will be like real tests, but without the fear of getting fail.
You can take the sample papers downloaded from here as mock test papers, and set a time limit of 1 hr to solve it. Do it in a separate room where no one disturbs you while solving the paper, treat it like a real exam. Now, what's the use of this? firstly, you will get to know your speed of answering based on which you will be able to improve your speed. Your weak and strong points will also be revealed, and you can improve them. Also, it will give you the confidence to face the real exam, and the more mock tests you take, the better you will be on the day of the exam.
So, take at least 3 to 4 mock tests in a month, if you really want to improve.
You can also take the online test to practice.
Time Management
Managing time is one of the biggest challenges while preparing for the technical written exams, as the time period between the PFT and written exam is very short, and the syllabus is quite vast to cover. So, time management skills can come in very handy at such times.
The very first step for time management is to set deadlines and goals to achieve within that deadline. So, make a list of topics and assign a time limit for each chapter.
The second key point in time management is being practical while deciding the deadline. While deciding the time limit for a project, big organizations take 30% time extra. We can not predict what may happen next and neither can we think of all the minor details and possibilities, therefore it is considered safe to take the extra 30% time.
e.g if you think that you will complete a topic in 2 days, then practically you will complete it in 3 days or so. That is why adding extra time is a better time management technique.
Finally, the most important thing in time management is to proceed as planned. Of course, things can never work exactly according to plan, but the least you can do is to try as much as possible to stick to it. Always remember, no matter how off track you are from the planned time table, it's never too late to follow it.
There is no use in studying
It's true, there is no use in studying if you don't remember what you studied before. And it's a fact that you will forget what you have studied today after 1 or 2 weeks if you do not stay in touch with it. So, timely revision is necessary to keep things fresh in mind.
Not that you have to go through the whole topic again and again, just go through the important points of the topic. Assign 1 day for revision only, 4 to 5 timely revisions will imprint the topic in your brain.
Try to Implement these techniques, I am sure they will benefit. Hope you liked this article, and leave your comments or queries in the comment box.